Stipa Caproni, an Italian Experimental Aircraft Add-on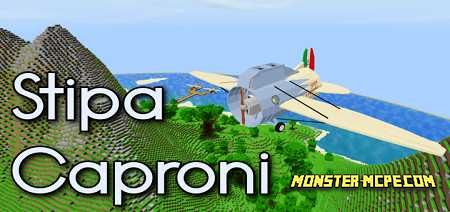 Would you like to add a new plane to the Minecraft world? If yes, then the new Stipa Caproni
addon
is exactly what you need. What is Stipa Caproni? The Stipa Caproni, also known as an experimental and unique Italian plane that was designed eighty-eight years ago by Italian engineer L.Stipa and built by the company which is called
Caproni
. It had a unique hollow with the shape of barrel fuselage and an engine with a propeller, another feature is that it had enclosed fuselage.
The maximum speed of the plane was 131 kilometers, with a weight of 595 kg, and only two seats. Since the aircraft was generally useless, its development and production were discontinued. All the same, he had advantages, it is a slow and smooth landing, but the disadvantage is that he was very poor in maneuverability.
Below you can see screenshots of what this plane looks like with an intubated propeller.
As in real life, this plane has only two seats, one for the main pilot and one for his passenger.
The controls are very simple, look up to take off or down to land.
Stipa Caproni, an Italian Experimental Aircraft Add-on