CraftGhoul Add-on 1.16/1.15+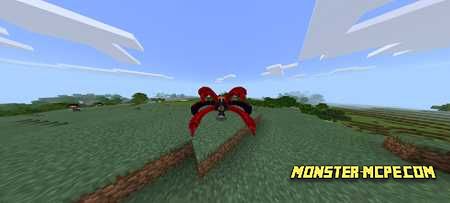 Are you familiar with the Tokyo Ghoul comics and anime series? In any case, whether your answer is yes or no, we recommend a new
addon
called
CraftGhoul
! This addon will be of interest to both fans of this manga and other players. Using the new addon, players can go through all the stages to get to the last form!
Master all forms of Kagune and gain strength at each new level. Below we will consider two stages of Kagune:
1. The first is Kaneki which consists of seven stages from 1 to 7. At each new stage, your strength and model of Kagune changes;
2. The second stage is Takizawa which consists of three stages.
Also, Quinque stages:
1. The first stage is Doujima which consists of two stages;
2. The second stage is Kaneki which consists of three stages.
All new items have certain crafting requirements. Getting everything you need is easy, you don't even have to use the / function command so that you can use a specific form. After you have mastered Kagune, grab it in your hands, and press the Shift button. A similar use for other devices is very simple.
In order for you to find the necessary items for creating the stages, you need to find a certain type of NPC that are located in different places of the map. In general, in the Minecraft world, you can meet four types of NPCs. Each type of NPS has certain features.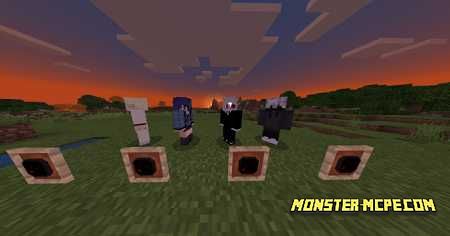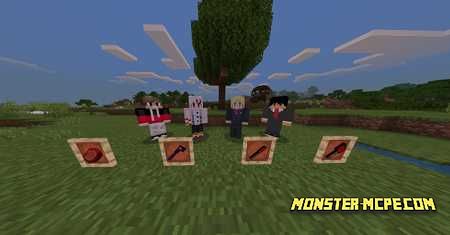 We recommend that you activate the Experimental game mode!
Below you can see some stages of Kagune and Quinque: