Bedrock IQ Map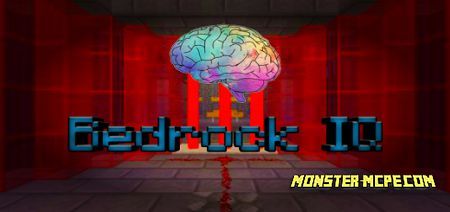 Do you think you are smart enough? Or maybe you had some IQ tests before? For those who do not know what it is, this is a test for assessing the level of human intelligence (intelligence quotient): the level of intelligence relative to the level of intelligence of an average person (the same or middle age), in a narrower sense, this is the ratio of the so-called mental age to the true chronological age of a certain person. It is determined using special questions presented in the form of tests.
If you have not previously passed such tests, we recommend that you check your intelligence level. It is very interesting and exciting at the same time.
For those who know what it is, this map will definitely be interesting. In general, the new
map
provides an opportunity for all players to go through 70 different questions by checking their intelligence level, as well as one additional question for those who are few or those who would like something more.
The new map is presented in the form of a fun and very interesting mini-game. Your main task in this map is to complete all the questions and tests that will come your way.
Please note that for a better experience, we recommend not using cheats!
Also, for more interest on the map, you can see Easter eggs that are randomly scattered around this map. Search and collect the eggs you find.
All the questions that the player has to go through will be distributed as a level system in any other mini-game, in other words, from simple questions to difficult ones.
Players can check their intelligence level already at the end of the game by calculating their results or in the middle of the game. Answer questions and get points. Also, for more convenience in the game, a checkpoint was added to the map. The checkpoint allows players to go back to the question they gave the wrong answer to and go through it again.
Below you can see screenshots of certain places on the map: