Easy TO Hard Parkour 2 Map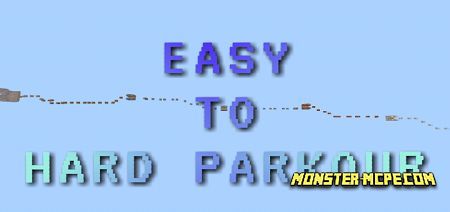 Do you like parkour maps? If yes, but you find it difficult to find something really interesting then the new parkour map is what you need.
Easy TO Hard Parkour 2
map
differs from many others in that it is neither easy nor difficult, here players can play from an easy level and the further they move, the more difficult it is to pass obstacles. There won't be very easy parkour here, but it won't be very difficult either. This map will appeal to many players who like parkour and new challenges. Here you can start jumping from easy difficulty and the further you go through the map, the harder the game becomes.
For a better experience, each subsequent level has a different design and, accordingly, the level of difficulty.
Please note that this map consists of eight stages, each of which has a specific design.
The further you go the harder each subsequent level becomes. At each next level, the distance between the blocks increases.
As mentioned earlier, the game consists of eight levels, each of which is created with different types of blocks such as mud, stone, andesite, granite, diorite, wood, netherite, and endstone. Below you can see all eight stages of the game and how they look in the game:
Easy TO Hard Parkour 2 Map