Cozy Brick House Map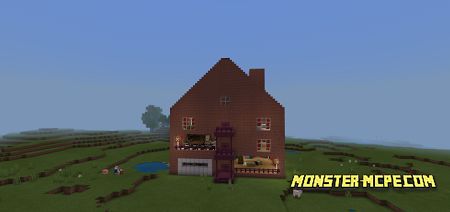 Would you like to live in a large and very comfortable house in the Minecraft world? In the house where you could find everything, you would need for a comfortable stay? If yes, and you have been looking for something like that for a long time, then a new brick house with a unique pleasant design is exactly what you need. The new
Cozy Brick House
map
allows each player to discover a new house with a working chimney and even his own personal elevator.
We draw your attention to the fact that the whole house inside is fully furnished, which means that you do not have to waste your time to come up with a design.
The preferences and tastes of a large number of players have been used in the design of this house, and as a result, you see this amazing creation.
As mentioned above, the whole house is furnished with furniture, every room, except for the garage and attic. You will see beautiful red curtains on the windows.
You can find out in more detail about what rooms there are in this house below.
What does the new brick house consist of?
First of all, it should be noted that the house is large enough and consists of four floors, on each of which you will find something interesting for yourself.
Starting from the first floor, players can find a living room there where both the player and his friends can live. In this room, you will see a TV, carpet, floor lamp, a sofa, and even a fireplace for comfort and warmth.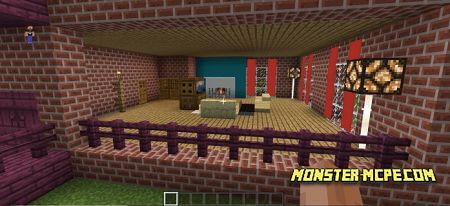 Also, on the first floor, players can find a garage with special garage doors and even a racing car. We would like to point out that neither the garage door nor the car can function as they were added only as a decoration.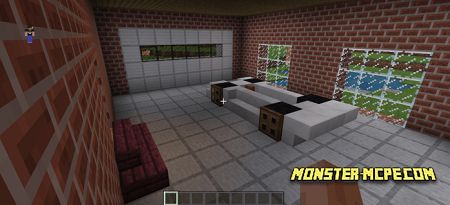 Now we go up to the floor above, namely the second floor. Here you will find a large and spacious kitchen, or whatever you might call it a dining room. Here you will see a floor lamp, a large dining table, chairs, a dishwasher, a wardrobe, an oven, and more.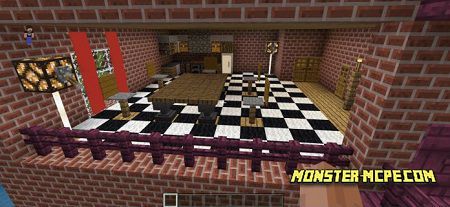 Also, on the second floor, players can find a small office space that you can use as your office or a place for serious meetings. Here you will see a desk, computer, chairs, computer desk, computer mouse, wardrobe, printer, sofa and much more.
On the third floor of this cozy and large house, you will find a bedroom with large panoramic windows and red curtains, a large long modern carpet, a large double bed, or what you might call a royal bed, a mirror, and much more.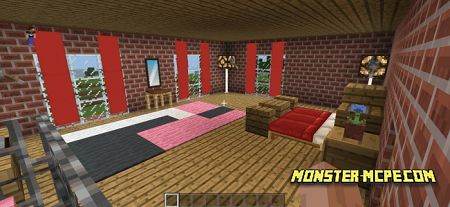 You will find a bathroom next to your bedroom. As usual in the bathroom, you will see a bathtub, washbasin, curtain, floor lamp, and other things.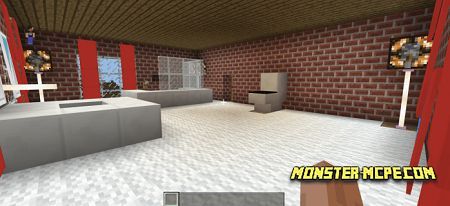 And the last fourth floor is where the attic is located. The attic has a lot of cobwebs, old bookshelves, and other things.
As mentioned earlier, in all rooms, except for the garage and the attic, red curtains hang on the windows. A working functional elevator, which in order for it to work, you need to press the Space button or Jump in order to go up, or Shift and Sneak in order to go down.
The house also has two balconies and a small cozy porch.
Please note that smoke will always come out of the chimney as if a fireplace is working.