The Killer Map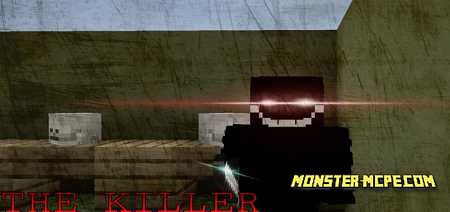 Would you like to play a new multiplayer game with your friends in the Minecraft world? If yes and you like survival games then this new
mini-game
is exactly what you need. Please note that the minimum number of players for this mini-game is two players. Here the players have two roles, the first is the innocent, the second is
the killer
. Each player will have their own role, for example, the innocent has to stay alive for a certain period of time, and the killer has to kill all innocents.
If the game is played by five players, then four of them will be innocent, and only one will be a murderer.
Regardless of what role you play, you will have five minutes to survive or five minutes to kill all innocent players.
Each player from both teams will have an advantage, for example, the killer's body will be invisible, only the skull will be visible, the innocent's speed will be increased, which gives you the opportunity to try to hide from the killer.
As mentioned above, the mini-game was created for the number of players not less than two! If there are five people playing, then there will be only one killer in the game and five innocents who will have to survive for five minutes.
Also, all innocents will have a small hint in the form of a text warning that will be displayed in front of you when the killer approaches you no closer than 5 blocks.
As for the killers, as mentioned above, their main goal is simple, you need to kill all innocents in five minutes. If the player does not have time to do this in four minutes, the player is given an additional effect that increases the speed of movement, this gives him the advantage to catch and kill as many innocents as possible.