PVP Duels Map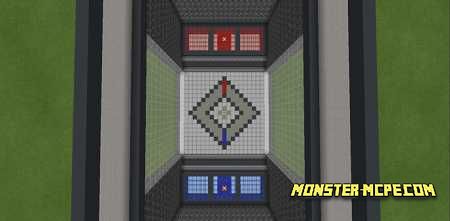 Would you like to find out who is stronger, you or your friend in the Minecraft world? If yes, or you just like PvP and different types of battles, then this PvP map for Duels is what you need. This
map
allows players to fight against each other. There are four battle modes available here. Also, this map has an automatic system for determining the winner and other useful functional features.
At the beginning of the game, you will see a lobby that is divided into two parts, blue and red. Here, one player needs to stand on one side of the pressure plate, and the other player on the other side of the pressure plate. After that, the battle will begin!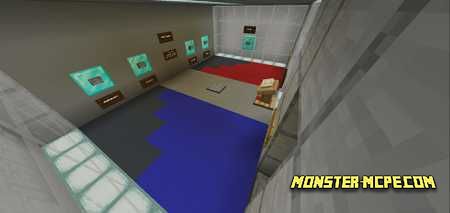 As mentioned earlier, four battle modes will be available in the game, let's take a look at them.
Types of battles:
1. Without Debuff. This is the standard PvP mode where players have a lot of health potions and ender pearls.
2. Grapple. PvP mode for players with enchanted apples. The player must receive only 16 apples.
3. Ultra Hardcore Build. This is a new mode where players will fight using a bow, bucket, fishing rod, and buildings.
4. Battles on bows. Using the blocks given to you to build a shelter and use the bow to defeat your opponent.
Note: For modes such as Ultra Hardcore Build and Bow Battles, players are given additional blocks that they must use to build. But not in all places you will be able to place blocks, so be careful.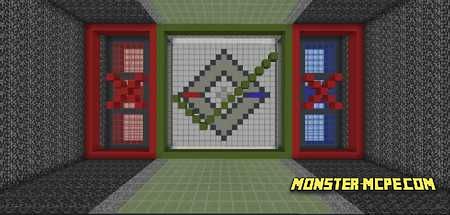 Below you can see a special place in the Lobby where players will be able to choose the type of PvP battle.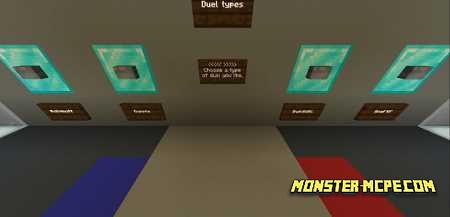 Also below you can see the place with all the command blocks: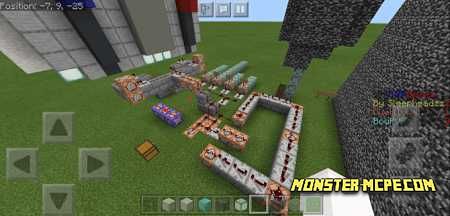 A great place to gain new experience in battles.
IMPORTANT:
We kindly ask you not to cheat! Do not disconnect from the game during battles and do not break blocks on the floor.