LG Duels map (PvP)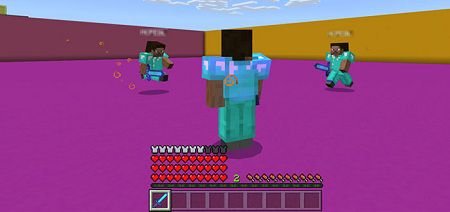 Do you like to find out who is the best PvP player in Maincraft PE? Then you should choose a suitable card for this. The LG Duels card will be very useful. Everything is created here so that you can fight to the death. For this, there are all conditions. And at the beginning of the game you can always use any effect that will be superimposed on both players of Minecraft PE, so that the battle is as fair as possible. This creation is a very good way to pump your skills to a completely different level and get the opportunity to kill any enemy!
How to play?
The battle will begin only if both players arrive in the game. By pressing a certain button, you can apply effects.
Download the map from the link below.
Run the downloaded map.
With the preliminary action, you imported the files into MCPE.
Start Minecraft PE - go to the list of worlds.
Open the installed map (Have a good game!).