PG BlockParty Map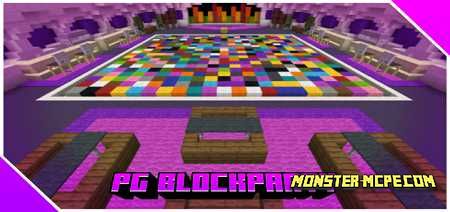 Do you like to play various
mini-games
? If so, then the new
PG Block Party
mini-game is what you need. This is a very fun and interesting mini-game for you and your friends. In general, the game is quite simple, you just need to be attentive and fast. This is a good opportunity to show your reaction skills.
All players will be located on a special multi-colored platform which consists of a large number of blocks of different colors. Very similar to the dance floor. With each new level, players will receive a block of a certain color in their inventory, after which players need to find a block of the same color on the so-called dance floor, in other words, a block that corresponds to a block on the ground. Why is a good reaction needed? Because you only have FIVE seconds to find and place the block on a block of the same color. If the player does not have time to do this on the platform, he will fall down.
Once again we repeat that in order for you to survive and go further, you need to stand on the platform and focus on the color that you will have in your inventory. The block you receive will correspond to one of the specific blocks of the same color on the platform. Players will have from 1 to 5 seconds to have time to place the color block on the platform and stand on it so as not to fall down. Time may vary by level.