GCS Battle Grounds (PvP) map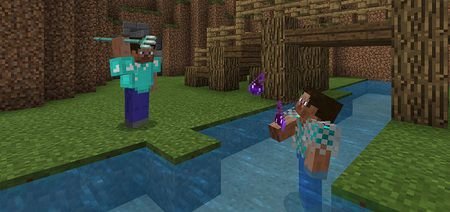 GCS Battle Grounds is an exciting game that consists of 3 different maps in Minecraft Pocket Edition. In one game world, 6 different sets are connected, which makes the mini-game extremely diverse and interesting. The essence of the game is that you will fight against your friend, and maybe even against several players at the same time!
You can even create a whole team to make the battle even more exciting. The game is endless and there are no particular rules here. This is a cool PvP map, where you will be in the very epicenter of battles - it's worth a try!
GCS Battle Grounds Battle Features
As soon as all PvP players appear in the Minecraft PE game world, the battle begins. However, before you appear on the map and start a battle you need to decide on the set that is best for you.
Each set of items has its own characteristics, so you get a number of special advantages, it's about your strength and armor protection.
You can choose one of the suggested roles, play as a ninja, sea king, wizard, shooter, fighter or archer. The choice is yours!
GCS Battle Grounds (PvP) map