Download Minecraft 1.12.0.11 for Android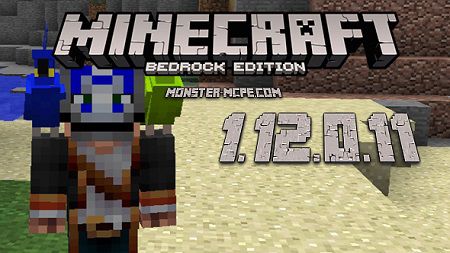 And again the update, the developers of the beloved game do not cease to amaze us, this time they pleased us with a new update, releasing
Minecraft Bedrock 1.12.0.11
and this is literally after several days after
1.12.0.10
! All this once again confirms how much they are trying to do and make for a comfortable game and the convenience of players.
Before we begin to analyze the new version fixes in the game with you, let's quickly familiarize ourselves with the already known rules. When you enter the new version, please note that your progress in the game can be changed. Also, you can not interact with other players who use the full version of the game, as well as with Realms. And the last, this is all the progress that you achieve or have already achieved in this version will not be available for previous versions. We recommend that you make a backup of your world in order to avoid problems in the game.
Now is the time to go directly to the fixes MCBE 1.12.0.11.
Minecraft BE 1.12.0.11 what has been fixed?
In this
version
, the developers have worked on solving problems of different levels associated with the gameplay, performance, commands, and others.
— Improved FPS performance.
— Floating blocks will no longer modify the grass in the mud at night.
— Correctly written name in the death messages V2 Zombie Villager.
— From now on command selectors are allowed for 0.2 ms.
— Correct work of the villager_v2 command in selectors (it can work with both types of villagers).
— Fixed a bug that occurs in many players when the network is disconnected, namely changing the skin to the standard one.
— Now with "recently used skins" you will not have problems when applying a skin.
— Minecoin offer has been improved.
Post your feedback, share everything you read from this article with your friends, and download this version of Minecraft Bedrock 1.12.0.11 by clicking the Download button, below!
If you are interested in other versions of Minecraft, see our website and there you will find everything that may be useful or interesting for you, namely new maps, add-ons,
skins
and much more! We wish you a good game!
Download Minecraft 1.12.0.11 for Android