Download Minecraft 1.11.3 for Android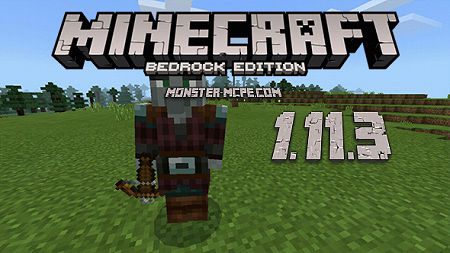 Due to the fact that the developers of
Minecraft BE
, as well as the players, began to notice more and more errors that could later affect and interfere with the gameplay, it was decided to release the next, complete and modified
Minecraft Bedrock Edition 1.11.3
. In general, the number of errors is small, but all this may somehow affect the gameplay.
As in previous versions, we are obliged to warn you about backing up your worlds, as in earlier versions they will not be available.
This version is only compatible with
MCBE
1.11.0-1.11.2. You will not be able to access non-beta players, as well as Realms.
At the moment, developers are still developing a list of fixes that relate to the Switch (at the moment it is not yet ready). This beta version will not be available for Nintendo switch devices.
Now, we'll get you to the fixes!
Fixes in the version of MCBE 1.11.3.
— From now on, when moving from V1-V2, villagers will be able to maintain their level of experience.
— Fixed a bug of mobs that found other attacking mobs.
— If the villager has a sufficient level of experience and has been healed by zombification, they will not be able to change their profession.
— The problem concerning the change of profession of the villagers.
— From now on, there will be no amphibious transport or any other that could swim. All creatures that do not have the ability to swim will move at the bottom of the water.
— Corrected the list of participants, namely in the Realms, tags, and images of users will be displayed.
— When you try to open another page, the Realms list will not return to the original page.
— Using the command -zombie_villager will result in selectors target villagers V1-V2.
Regardless of whether you encountered these problems, the developers tried to fix everything as soon as possible so that your gameplay brings you convenience in the
Minecraft
world, download
MCBE 1.11.3
by clicking the button below, DOWNLOAD, share this article with your friends, and leave your feedback.
On our site, you can find many other versions, maps, mods and more that will make your world of Minecraft more interesting and exciting. We wish you a good game.
Download Minecraft 1.11.3 for Android