Minecraft PE 1.19.80.20 for Android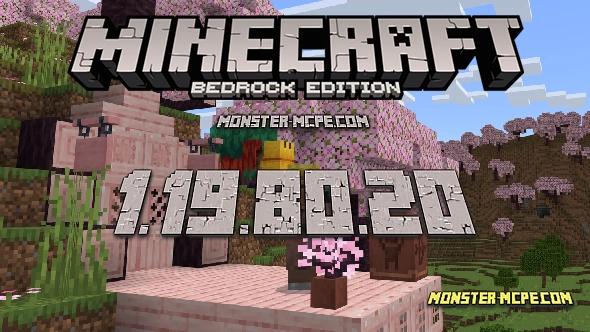 The developers have released a test version of
Minecraft 1.19.80.20 for Android
. Added the Cherry Grove biome, updated the Experimental features, and made 16 changes.
Cherry Grove
A new biome in the game world.
More details:
-Found in mountains, like Plains
-Pink petals appear on the ground
--Pink Dye can be crafted from them
-Pigs, Rabbits, Sheep, and Bees can be found there
-Sakura trees grow in this biome
New death screen
The death screen has been changed. Developers will be collecting player feedback on this.
-Players can switch back to the old death screen in the settings.
Experimental mode
-Flower Pot
--The pot has been updated with a new design
--Only certain blocks can be attached to its sides
--Items of the same type no longer stack in the inventory
--A recipe has been added to the Recipe Book
--Improved textures and graphics
-Brush
--Crafted from a Feather, Copper Ingot, and Stick
--Improved animations when used in third person view
--Improved particle effects and sounds when used
-Suspicious Sand
--Does not fill with water
--Connects with Fences
--Reverts to normal sand when destroyed with a Brush
--Emits particles when destroyed by a Piston
--Fixed item flickering inside the inventory
-Camel
--Fixed acceleration when riding the mount
-Sneaking
--Added a toggle to reduce player height to 1.5 blocks
Changes
-The "Text-to-Speech" function stops when switching to the next item
-Added a slider to adjust the transparency and flicker speed of enchanted items' glint effect
-Buttons no longer appear on Maps
-Flowers are instantly displayed when placed in Flower Pots
-Auto-jump works in water
-Added a title to the inventory screen
-Improved font
-Improved scrolling on touch devices
-Mobs only enter boats if they are smaller than the boat
-Villagers emit green particles when successfully trading
-Mobs now have feeding sounds
-Reduced Panda hitbox size
-Increased Polar Bear hitbox size
-Changed the
/summon
command.
Vanilla Parity
6 changes have been made to Java and Bedrock version equality. Interesting changes include:
Weighted pressure plates now have new sounds
-Character limits for player names in scoreboards have been removed
-Watermelons and pumpkins now grow on Mud, Podzol, Coarse Dirt, and Mangrove Roots
-The Netherite block has been moved to the Creative Inventory
-Armor Stands now disappear without sound when removed using the
/kill
command
Bug Fixes
-Controller support has been improved
-Players can no longer crouch while flying
-Black cubes no longer appear in VR mode
-Animations have been fixed when switching between swimming and walking
-Command blocks have been fixed
-The "Health Boost" effect no longer fully replenishes health after its duration ends
-Cave sounds now play when entering The End
-Cooking Chorus Fruit in a furnace now gives experience
-The Nether Portal replaces more different blocks when created
-Light levels for Light blocks have been fixed
-Campfire sounds have been amplified
-Light from Light blocks with RTX has been fixed
-Capes no longer turn red when taking damage
-The hopper model has been fixed
-Interface errors have been fixed
-Items no longer get stuck in the crafting inventory when using touch controls
-Turtles can now sit in Boats and Chest Boats
-Hoglins, Polar Bears, and Spiders can no longer sit in Boats and Chest Boats
-Information about errors has been added for the
/execute
command
-The paste function for Command Block input fields has been fixed
Minecraft PE 1.19.80.20 for Android