Minecraft PE 1.19.60.25 for Android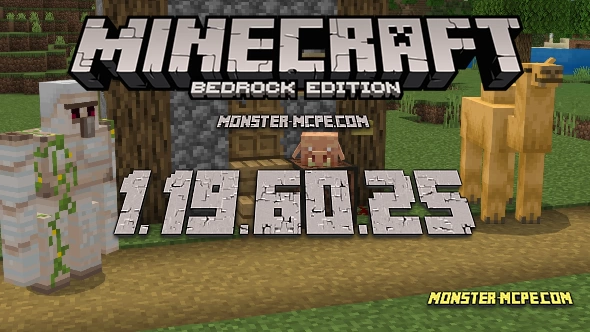 The developers have released a test version of
Minecraft 1.19.60.25 on Android
. This update improved the Experimental features, made 11 changes, worked on version parity, and fixed 10 bugs.
Bugs version
The version has already found bugs that will be fixed in future updates:
Split stacks can't be stacked back up with gamepads, mouse or keyboard
Developers promise to fix this bug in future versions
Experimental Features
Added 4 updates to the game's experimental mode
Camels don't get into Boats or Wagons
Mob heads are set on Note blocks without crouching
Added error message about unsupported blocks with modified properties on versions 1.19.60+
Tooltip appears when using non-classical touch controls
Version match
Changed the sounds of Doors, Hatches, and Fences
Changed the sounds of interaction with Pressure Plates
Added new sounds for Wooden Buttons
Fixed colors of items on the Map
Added 11 changes
Added sounds when installing Warped and Crimson blocks
The /execute if|unless score command does not work when selecting multiple objects
The minecraft:movement property correctly changes player speed
Wither and Ender Dragon Spawn Eggs spawn does not appear in the creative inventory, but can be accessed with commands
Improved the description of particles in documentation
Server clients are not generating unnecessary blocks
Added a delay between recreating items
Removed the delay when moving the aim from attacking to creating things
Changed the touch control circles
Pop up notifications can be removed with a swipe
Xbox does not show touch control settings
Fixed 10 bugs
Teleporting to other changes via commands does not crash
Fixed the /execute if|unless score command for a player without a score
Redstone Dust makes a sound when placed on a surface
Fixed mouse control of the camera after using touch control
Players can "pick up" the Wither and Ender Dragon, Snow Golem and Iron Golem using the pick up block
Piglins spawn at Light Level 7 in the Nether World
Evokers apply a sit animation when using a transport or riding mob
Fixed a world interaction bug when using the inventory button
Players can flip pages when one line is out of frame
Technical changes
Added 3 technical changes for addon development and testing.
Minecraft PE 1.19.60.25 for Android