Minecraft PE 1.16.230.50 for Android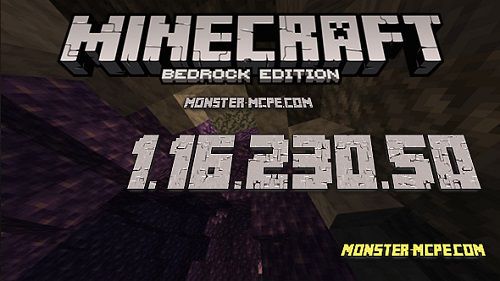 Just a few hours ago, the developers of Mojang presented to the fans of the Minecraft universe a new
test update
, namely
Minecraft PE 1.16.230.50
! The new test update is already available to all users of the Android operating system. In general, in the new update, about fifty different bugs have been fixed, and a new block has been added to the Minecraft world called Glowing Lichen. Let's take a look at the new changes in more detail below.
Features of the update Minecraft 1.16.230.50
The first feature of this update that we will consider is a new block called Glowing Lichen. A new block is a non-rigid block one-sixteenth of a block thick. This feature gives the opportunity to each player to place it almost on all sides of different solid blocks. A special feature of this block is that it can also emit a little light in dark places in caves. The main features of the block are the ability to emit a slight source of light, can be covered with water, can be cut and obtained with scissors, generated in the different caves, can be added to a composter. Also, when a player is using a material such as a bone meal the glowing lichen can be spread to neighboring blocks.
Glowing Lichen can be generated in a natural way below the surface of the earth such as granite, rock, calcite, drip block, and others. Please note that Glowing Lichen emits the light of the seventh level. Using an item such as a bone meal will help spread the block to nearby blocks, but please note that it can be done only in places where it is possible, otherwise, the material such as a bone meal will be useless wasted.
When using a material such as a bone meal for the Glowing Lichen, this block can be spread to the different sides and top of nearby blocks, but not to the back. Please note that the lichen can not be spread naturally.
Also, the glowing lichen can be destroyed by any item, but please note that only by using scissors can players get the lichen block itself. The Efficiency Enchant does not affect how fast you get Glowing Lichen using scissors.
The most effective tool for destroying lichen is an ax, however, it is impossible to get the block itself, even using the silk touch enchantment.
Bug fixes in Minecraft PE 1.16.230.50
In total, about 25 different bugs were fixed, some of which you can see in the list below:
1. Mojang added support for mouse and keyboard for new devices with Android operating system;
2. Fixed seven more different bugs related to the Android operating system;
3. Powder snow is not dropped during the explosion;
4. Fixed the process of melting items in the furnace;
5. Fixed centering when eating food;
6. Fixed the first-person view of the shield;
7. Fixed the use of a leash for mobs such as goats;
8. Fixed drop of azalea foliage when cutting with scissors;
9. Fixed fertilization of moss blocks;
10. Fixed filling the composter with hanging roots;
11. A block such as a Small Dripleaf is dropped as an item when using scissors;
12. Placing a block such as Big Dripleaf on top of another Dripleaf block increases its height by 1 block;
13. Players who are using a shovel on the rooted ground creates a block of grass;
14. Bees perceive a block of azaleas and blooming azaleas as flowers;
15. If you cancel the creation of the world, the user is no longer stuck on the loading screen.
And the last one is Technical bugs. It also made about 25 different technical fixes. Most of the changes are related to the GameTest Framework, for which about 19 different changes have been made.
Minecraft PE 1.16.230.50 for Android