Minecraft PE 1.16.210.05 for Android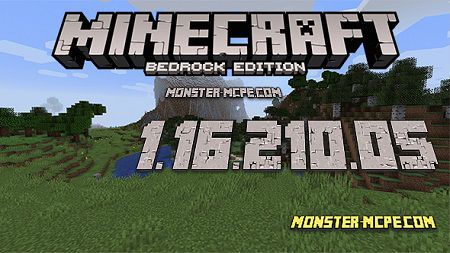 The developers have released
Minecraft 1.16.210.05
on Android devices. The
update
is aimed at improving stability, more than 100 changes have been made in this version.
Java and Bedrock
The work on version synchronization continues.
This time we fixed it:
Sounds in the Nether World:
Players can now hear ambient sounds in the Nether world.
Bone meal:
An item in Ocean Biomes will only create Seagrass, Coral, and Coral Fan.
Changes
Added volume control for text conversion.

To go to full screen, you can now use the F11 key on Win 10.

Minecraft no longer supports KitKat Android devices.

Minecraft no longer supports KitKat Android.
Bugs fixed
Fixed 86 bugs. We have already talked about some in previous versions.
Let's highlight the bugs that are important to mention:
Fixed bugs that prevented the launch of the game.

Fixed uploading files.

Fixed teleportation.

Fixed loading of worlds from the Market.

Fixed connection to servers.

Fixed a bug due to which the player took damage from the Shulker's box.

Fixed dismounting in water.

Fixed attack of mobs above or below them.

Fixed a bug due to which the parrot flew into the sky and did not return.

Fixed dragon animation.

Fixed food intake for foxes.

Fixed minecarts working.

Fixed mining of blocks with "Silk Touch".

Fixed TNT working in water.

Fixed achievement screen.

Fixed the work of most of the commands in the Minecraft chat.
Minecraft PE 1.16.210.05 for Android