Minecraft PE 1.16.100.57 for Android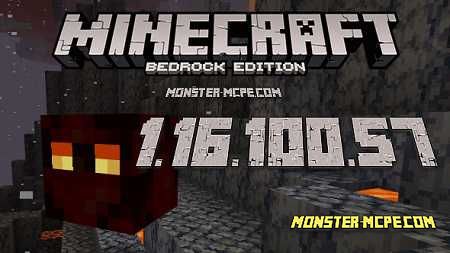 Guys, welcome the new
test version
of
Minecraft PE 1.16.100.57
for Android. In total, over 70 different changes have been made to the game. We will tell you more about everything below.
What's new in Minecraft 1.16.100.57?
This update completely changed the Nether. New mobs, biomes, structures - all this is in new update. There is a new material called netherite. This material leaves behind even diamond in its strength. Especially, netherite items will never burn in lava or fire.
Ruined Portal
New interesting structure in Minecraft 1.16.100.57, which is a destroyed portal. You can find Netherracks, Chiseled stone bricks, and Magma Blocks around this portal. Also, lava is always there.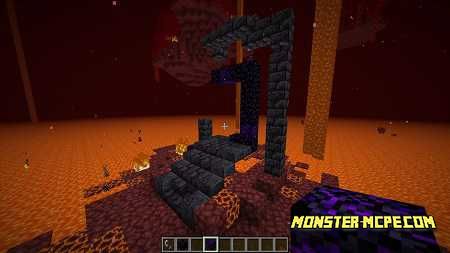 There is always a chest with valuable resources in Ruined Portal. Rarely, a gold block can be found in this portal. The Ruined Portal is the only place in Minecraft PE 1.16.100.57 where Crying Obsidian is naturally generated.
Respawn Anchor
For a long time, after death in the Nether, player had to run to the portal to pick up their things. However, in Minecraft PE 1.16.100.57 you do not need to worry about this, because you can set a spawn point right in the Nether. Thanks to a new block - Respawn Anchor, this became possible.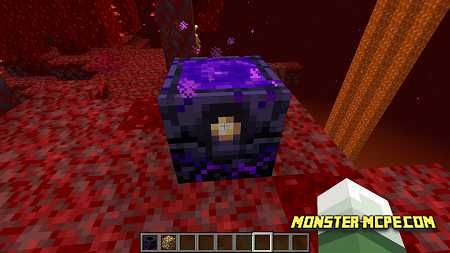 You can craft this block from Crying Obsidian and Glowstones. After that, you should set the Respawn Anchor on the ground and charge it with Glowstones.
The maximum amount of charge is four. After each death in Nether, one charge of the Respawn Anchor is spent.
Strider
Strider became the only tameable creature in Minecraft 1.16.100.57 in the entire Nether. To tame this mob, you must use warped fungi.
You can get them in the Warped Forest. After that, player is able to mount the saddle on the strider and control it using a Warped Fungus on a Stick.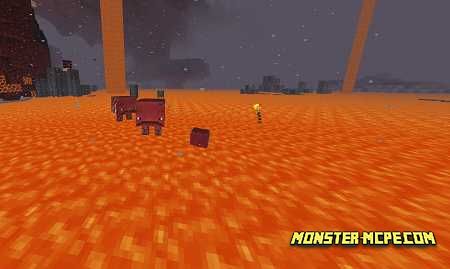 Strider in Minecraft PE 1.16.100.57 can walk on lava. Thus, player can not only tame this creature, but also cross the lava lakes with it. And you don't even need to use a large number of blocks to build a bridge.
Interesting:
The strider's head turns red while in lava, and turns purple outside lava.
Minecraft PE 1.16.100.57 for Android