Fairly Purple Texture Pack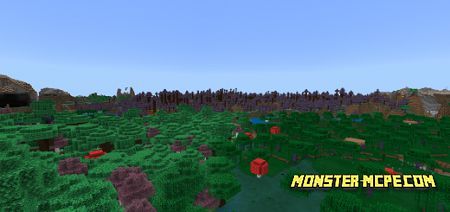 Do you like purple? Would you like to make it so that this color would surround you in the Minecraft world? Or maybe you just would like to somehow change your world in an unusual way? If yes, then the new texture pack is what you need. The new
texture pack
changes certain textures of objects and items to purple. Add a new look and new unique textures to trees, items, and tools in the Minecraft world. Let's take a look at the unique features of this texture pack below.
Features of the texture pack
As mentioned earlier, the new texture pack changes the usual old and boring textures to new and unusual purple colors.
The first thing we will consider with you is the Elytra. This item now has a dark blue color, or as it was called the blue monarch butterfly.
Very unusual textures, the screenshot below:
The second is armor. The armor now has a more refined and rich look. Feel like a king with new armor textures that have elements of precious stones and gold. Please note that the golden helmet has been replaced with a gold tiara. You will see a gold lining on the diamond armor.
Screenshot of the armor below:
Let's now take a look at what the wood will look like. Now all objects and items made of oak will have a purple color. Also, specks on birch trees will now be pink instead of gray as before.
Screenshots of things made of wood:
Also, the pictures in which the frames will also be purple have received changes.
The next thing we will look at is tools and items. It is the tools and weapons items that have received the most varied and large changes in textures. We are talking about certain sets of items, namely axes and swords. Now, these items have a more interesting and unique look.
Screenshot of items below:
Dyes also received minor changes.
Screenshot below:
Minecraft water now has a more turquoise and magical look.
As for the environment in the Minecraft world, the leaves of trees such as birch have been changed to pink, and evergreen leaves are purple. Also, as mentioned earlier, a tree such as oak now has different textures and all items made from it will also have the same color. Oak leaves are slightly turquoise in color, but please note that the color of the leaves can vary depending on the biome.
Screenshot of the environment:
The animals have changed the texture of the eyes, now they have a more cute and defenseless look.
A screenshot of the changes below:
And as a bonus, this texture pack adds a certain hidden item that you need to find! This item has a sufficiently higher resolution.
Fairly Purple Texture Pack