Purple Emitter Default Edit Texture Pack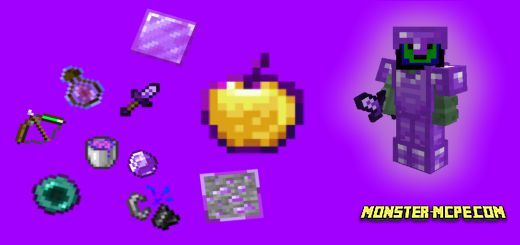 Do you like purple? If you really like the purple color then the new texture pack is what you need. This
texture pack
is such textures that change everything you need while maintaining all the functionality, including for PVP battles and survival. Now many items, interface elements, and certain effects will be purple. Let's take a closer look at the features of this texture pack below.
Features of the texture pack Purple Emitter Default Edit
The first is the modified short swords and other items that have a purple color or purple shade:
Now all diamonds are changed to amethysts as they are purple.
Changed the color of lava and fire, they are now purple:
All swords are now named stabber.
Added new textures called Clear Vanilla.
Netherite Gear now has gold stripes.
The updated bar of experience, health, hunger, and more has a purple tint:
The look of some items has been updated.
Fireball textures have been changed to dragon fireball textures.
The wool will now be smooth.
Some item names have also been slightly changed.
A unique view of the sun with a face.
Also, added textures for ores from the
Minecraft PE 1.17 update
and have outlined lines and much more!
Purple Emitter Default Edit Texture Pack