Custom Crosshairs Pack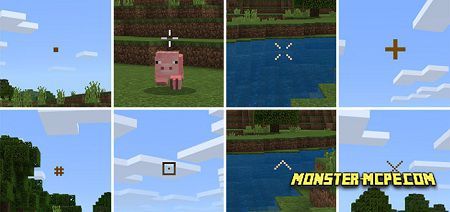 Pack of new crosshairs, you can find here 10 different crosschairs, all you need for this, is to make just a few movements in order to change and choose a new crosschair. It is well-known thing in the centre of your screen for hitting your enemies.
At first, enter to your settings, in order to activate in global resources this pack. Click on the settings to set a new type of crosshair.

For changing of type of crosshair, you should use a slider for selection of certain you want. Restart the game and enjoy of new crosshair in your game.

Here is all available styles:

Invisible Crosshair

+ Crosshair ( without center )

Dot Crosshair

Circle Crosshair

x Crosshair

x Crosshair ( without center )

Square Crosshair

Arrow Crosshair

Hashtag Crosshair

Large Crosshair

In the nearest time you will get more variants of interesting crosshairs for your game!