Enormous Bamboo Jungle with Crossing Ravines Seed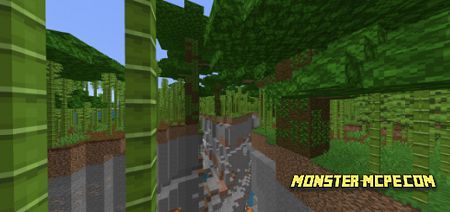 Very beautiful and exciting
seed
. Visit this amazing world that extends over more than 500 blocks. On the map, you will find three beautiful ravines, a huge bamboo jungle, and a very deep mine. You can see how two ravines intersect with each other, it is there that you can find a mine. The ravines are in the spawn place, so you do not have to search for them for a long time.
After that, you will be on top of the tree. It will be a forest biome in front of which a huge bamboo jungle will stretch.
As mentioned above, in general, there will be 3 ravines in the game, one of which will be small and it will be located behind you. In the bamboo jungle, you will find the other two that intersect with each other.
We also remind you that inside the two ravines there is a very deep mine.
Everything else that will be surrounding you are the boundless bamboo jungle.
ID: 1960607841
Enormous Bamboo Jungle with Crossing Ravines Seed