Voting for a new mob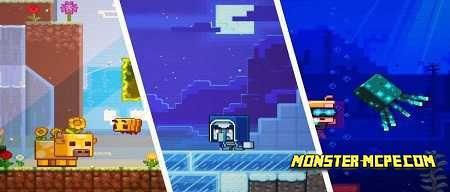 Have you heard about the upcoming vote that will be available to players by the developers of the studio Mojang? If not, then hurry up, because maybe your voice will decide which creature will be added next to the
Minecraft world
.
Join the live stream to vote for the mob you like.
When will players be able to vote for the mob they like?
One of the major upcoming events this fall is Minecraft Live. This event will take place on October 3rd!
On October 3rd, the festival will be
broadcasted live
, when you can vote for your favorite mob. Please note that this vote will be available on Twitter. Twitter users who subscribe to a Minecraft account will be able to vote. You can choose one of three candidates — the hostile inhabitant of the snowy mountains Iceologer from Minecraft Dungeons, the yellow cow Moobloom and the glowing octopus Glowsquid from Minecraft Earth.
Also, an interesting fact, it was previously reported that a Minecraft player under the nickname Pixelbiester made a Blocktoberfest map — a virtual version of the Oktoberfest festival canceled due to the coronavirus pandemic. NVIDIA helped him with the project. Let's take a look at the new mobs.
New mobs that will be available for voting:
1.
Iceologer
. This subtype of Illagers will inhabit places such as snowy mountains, biomes, and other snowy locations. This is a hostile mob that will attack players. From now on, the snowy mountains will be more dangerous.
2.
Moobloom
. You may have already seen this yellow cow in Minecraft Earth. It is a friendly animal. These mobs will be able to complement the green and colorful biomes.
3.
Glowsquid
. The glowing octopus is another animal from Minecraft Earth. The behavior of this animal is similar to the usual squid, but the unique glow will give a magical atmosphere to the underwater world.
What new inhabitant will inhabit the Minecraft world depends on your voice! And remember, you only have one voice and three mobs, which animal will you choose?