Overworld Netherite V2 Add-on 1.16+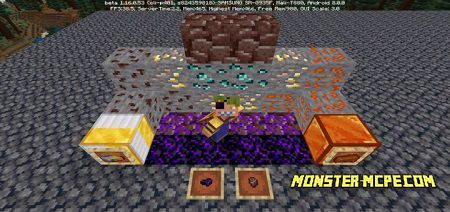 Have you ever mine in the nether dimension a new ore which is called
the netherite
? It doesn't even matter if it was mined or not, in any case, everyone already understands how much cool ore it is. This
addon
adds this ore and some new ones to the overworld of Minecraft.
As previously mentioned in the overworld, new ores of the Netherite ore will be added. See the screenshot below:
If the player gets this ore he will get 3 nuggets of netherite.
These nuggets are very important because if you do not get them in the future you can not get anything from what will be offered to you by this addon.
For example, a player having 9 nuggets of netherite can create a very interesting fake block of netherite. See below how it looks:
This block may be necessary for the player to create an ingot of netherite. But besides this, the player will need more nuggets of gold and netherite, as well as a gold ingot. See the recipe below:
A new kind of obsidian block called crying obsidian! You can see the crafting recipe below:
This is a very beautiful block that players can use as decoration. For example, look at the screenshot below:
And the last SPECIAL block of netherite is called Crying Netherite! In order for the player to create this block, you will need a nugget of new crying obsidian. The player must destroy this nugget and then receive crying obsidian which will be needed to make a new special block.
Craft Recipe Below:
Overworld Netherite V2 Add-on 1.16+