BIG Cats Addon 1.14/1.13+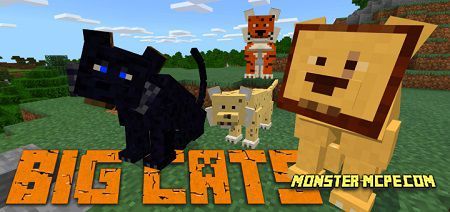 A very exciting
addon
that adds new animals to the Minecraft world. But these are not just animals, they are from the family of big cats. Yes, we are talking about such predators as the lion, panther, and tiger. Be very careful as they are very dangerous. All these hostile animals live in places like the savannah, jungle and hilly forests. Let's look at each of them below.
New big cats in the world of Minecraft:
1. Panther: These animals live mainly in forests. The player can tame them using salmon. You can breed a panther using a golden apple;
2. Tiger: The player can find these animals in the jungle and savannah. You can also tame using salmon. They will not attack you if you do not bother them, but be careful. You can also breed these animals using a golden apple;
3. King of the Jungle — Lion! Of course, they live in the jungle, but can also be found in the savannah. The player can use salmon to tame this animal. But do it very carefully and quickly as they try to kill you. You can also breed these animals using a golden apple.
In the future, other big cats will be added, such as saber-toothed tigers, jaguars, cheetahs, and others.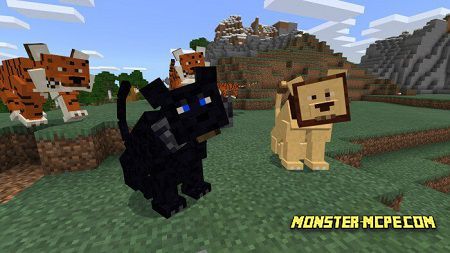 BIG Cats Addon 1.14/1.13+