Ford Mustang GT 2015 Add-on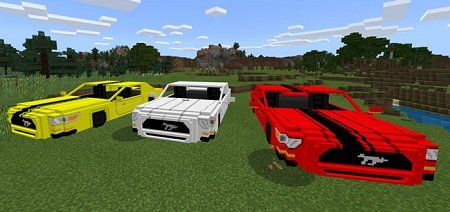 Ford Mustang GT 2015 Addon is a unique opportunity to get a luxury sports car capable of speeds up to 180 miles per hour for a very fast time! If you are a car lover, then this addition is definitely suitable for you. Sports cars are a rarity in Minecraft Pocket Edition, and now you can add a sportcar to your game world. One of the creatures of the cubic universe will be replaced by the Ford Mustang, with the car available in different color variations!
Let's check it!
When you install the Ford Mustang GT 2015 Addon you will have the opportunity to ride a sports car, which now appears in the gaming world instead of one of the mod, the rabbit is replaced with an expensive racing car. You can find cars on the usual terrain of the Minecraft PE universe, for example in most of the biomes where rabbits usually appeared. There is another way, it's faster. Take the Rabbit Spawn Egg and use it to get behind the wheel of the Ford Mustang GT 2015.
When you want to ride your new car in the game, you just need a key to start it. Turn the turns by simply turning in different directions to set the desired movement of the sports car.
How to drive?
For iOS or Android devices: use a long tap on the car's shadow then tap on Ride / Drive button
For Windows 10 devises: Right-click to the shadow of the car for riding Ford Mustang GT 2015 in Minecraft PE
Have a nice game!
Ford Mustang GT 2015 Add-on