66′ Ford GT40 MKII Add-on 1.16/1.15+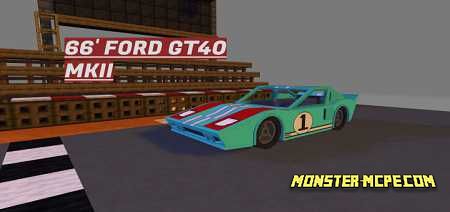 Do you like racing cars? Would you like to add another one to your Minecraft world? If yes, then we present you with a new
addon
that adds the legendary 1966 Ford GT40. This is a legendary racing car that was created with the goal of winning the race against Ferrari. This car is a four-time winner of the 24 Hours of Le Mans from 1966 to 1969. The Ford GT40 was created to prevent Ferrari from winning the world-famous 24 Hours of Le Mans. The goal was achieved and Ford won the Grand Prix.
The Ford GT40 was created in 1966 and even then could surprise with its speed and design. This car had good aerodynamics, a very powerful engine, sleek and unique design, all this together gave a great advantage on the track.
The sports car Ford GT40 has slight differences even from other racing cars, namely the number of seats, there are not two, but only one. (The real model has two places.) High speed, free slots for storing items, added animation, and new sounds.
This car is available in the Minecraft world in three colors, namely Light-blue, Black with white stripes, and the last one is White with blue stripes.
We draw your attention to the fact that in order for the player to get this car, you need to use a special spawn egg from the Creative inventory, or use a special command
/summon
.
Below you can see what the Ford GT40 looks like in the Minecraft world:
1. Light blue: Spawn command: gt40: km
2. Black with white stripes: Spawn command: gt40: black
3. White with blue stripes: gt40: white
Other screenshots of Ford GT40 race car:
66′ Ford GT40 MKII Add-on 1.16/1.15+