yFarm Craft 1.19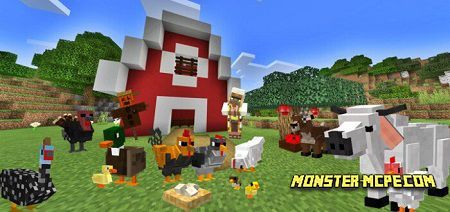 We present to your attention an amazing addon that was created with the aim of changing the usual farm and making it much better and more interesting. New animals (mobs), types of trees, plants and much more will be added to the game. The new
addon
is called
yFarm Craft
!
Let's take a closer look at this new add-on with you.
Before we begin, we draw your attention to the fact that this addon is supported by the game version from 1.14.
What does the new yFarm Craft addon give us?
New mobs, trees, plants and much more will be added to the game, these will be the most important and most interesting features of this addon. All this, in general, makes your farm much more interesting and beautiful.
What animals will be added to the game?
Please note that some animals will be presented in the game in several variations, such as a chicken or a cow. The player can find all new animals in the same places as before, they also have their usual functions and have the same behavior. In the upcoming updates, new types of animals will be added to the game.
New mobs (animals):
— chicken;
— rooster;
— a pig;
— a cow;
— ox;
— a sheep;
— guinea fowl;
— goat;
— turkey;
— beekeeper;
— and others!
Below you can see how some of them will look in the game:
Baby chickens in several variations:
How a duck and a turkey look like in a game:
How the beekeeper and the goat look like in the game:
We advise you to find a beekeeper, he has very nice exchange items:
What has been added to the game?
New blocks will help the player to improve his farm.
1. Nest
This is a kind of chicken house. Chickens create their nests throughout their existence in the Minecraft world. This may take about 25 minutes;
2. Basket for apples
This is a basket that is designed for the player to carry and store his apples in it. This is a great item as it can serve as part of an interesting interior of your house or yard. In case the player breaks the basket, all apples return to the player;
3. Nest Boxes
This will help you better control and manage egg production in chicken coops;
4. Scarecrow
This item will help you scare away unwanted guests who want to spoil your harvest.
5. Wheat feeder
This is an excellent item that was created for feeding animals such as cows and oxen, as they themselves feel where the feeder is located. This gives animals the opportunity to restore lost health. Having been injured, cows and oxen are sent to a feeder with wheat, sensing it from a distance.
Plants
The player can find new types of plants, but not just plants, but a crop that he can later use for food. New types of crop plants are eggplant, tomatoes, turnips, and radishes.
The trees
The game will naturally generate new types of trees such as apple trees, cashews, and pomegranates.
Items
This is the resource that you get from new plants. In other words, the same blocks.
UPDATE
Changes in the new version
Added crafting recipes
Added builds
Compatible with 1.19
Multiplayer Compatibility
Added Mobs
Changed the features of mobs
Modified blocks, items, and particles