Elemental Weapons Add-on 1.14/1.13+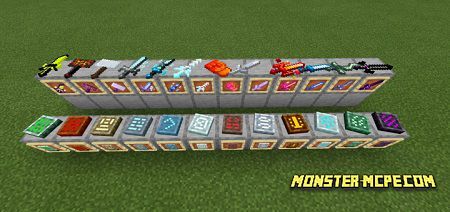 Have you ever wanted to have more different types of weapons with new unique abilities that would be much stronger than any others? If so, then this
Elemental Weapon addon
is exactly what you need. Using this
addon
, 12 new unique types of weapons will be added to the game, each of which has its own special functionality. Each new weapon has its own peculiarity and its level of destruction. But as elsewhere, certain shortcomings exist so as not to make them too powerful. Also, players will be able to find chests with a very useful treasure, such as a spell tile, we will talk with you about it a little later, and also find out how to find it. Let's look at all the new types of weapons below.
Weapon types:
In order for a player to be able to use new weapons abilities, he needs to sneak and attack, this applies to all new types.
1. The explosion of Void: all entities that will be nearby will move towards you and get the effect of sweeping. To use this weapon, the player needs to sneak and eat an item;
2. Ipo: when used on some entity, it will be thrown into the air with the help of a small tornado;
3. Atomic wave: quite powerful damage to all surrounding entities;
4. Fist Meteorite: throws a meteor at a specified location;
5. Earthshaker: large stone spikes will appear around the entities that will cause damage;
6. Polar wind: slows down your enemies;
7. A blast of Quake: causes an explosion in the specified region and leaves a small crater;
8. Sonic gust: hits the enemy and pushes him away using a gust of wind;
9. Master of hail: deals damage to all surrounding creatures by hail;
10. Glacier: sends ice rings to creatures that will later be frozen;
11. Sunstroke: sets fire to creatures that stand in front of you.
Tile spells!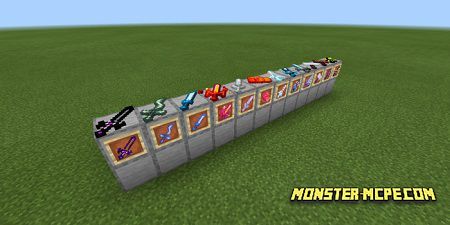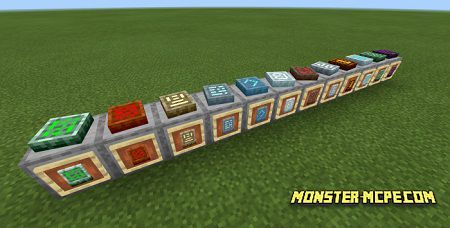 This is a special tile that you need to craft different types of weapons. Use the amalgalm pillar to craft weapons!
It is IMPORTANT to know where to find this or that type of weapon, for this you need to visit all locations such as dungeon (with Sonic gust), treasury (Ipo), void fortress (Blast of Quake), igloo / room of monsters (Glacier / Master of hail / Polar wind), the temple of the jungle (Atomic wave), an abandoned mine (Earthshaker), End City (Fist Meteorite / Sunstroke / Explosion of Void), the library of the Fortress (full name / Sunstroke / Sonic gust).
What do you need to do to get amalgam pillar?
For this, you need to find and use smooth types of stones, such as normal stone, diorite, and granite.
DETAILED information on how to create a weapon
The process consists of 4 steps:
1. Place the aforementioned amalgalm pillar;
2. Add 4 tiles to the pillar;
3. Then, to complete the crafting process, add a diamond sword to the pillar;
4. Take your weapon and use it against your enemies!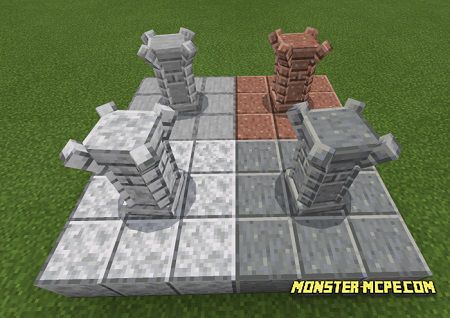 Elemental Weapons Add-on 1.14/1.13+