Megumin's Explosion Skill Add-on 1.16+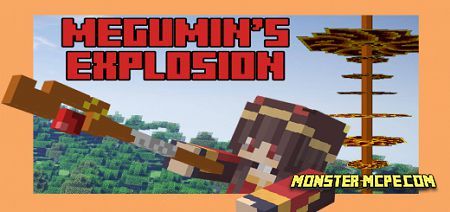 Do you know what KonoSuba is? Surely among the fans of the Minecraft world, there are fans of this series of anime comedy novels. If you don't know what it is, then just try to discover a new
add-on
that may be of interest to all players who like different powerful spells or just something new. As you already understood, we will talk about a new spell that will be added to your Minecraft world. The new add-on allows players to use a famous spell from the aforementioned KonoSuba, namely a spell called
Megumin Explosion
.
In order for players to use this spell, it is necessary to use a special staff Megumin for this. Please note that this staff cannot be crafted yet, but it is only available in the Creative game mode! Let's take a closer look at how it works and the features of the new staff below.
Staff features and Megumin Explosion spell
As mentioned earlier, in order for players to use the new spell Megumin Explosion, you must first get a new special staff Megumin. Players cannot craft this staff, so there are only two ways to get it, one of which is using the command /give or simply through the Creative Menu.
After the player has received the staff, it is necessary to aim at some creature or object and use the staff. To cast the spell, the player will need four seconds, after which you will see the beautiful and at the same time destructive effect of the Megumin Explosion spell.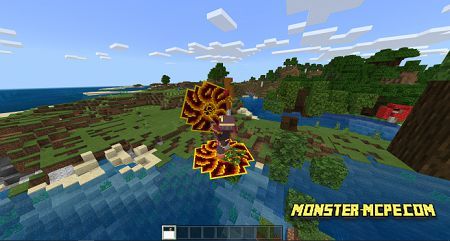 (Please note that players can only see the effect of the spell when playing from the 2nd or 3rd person while playing from the 1st person you will not see the effect of the spell).
Also for KonoSuba fans, after you cast the spell you will hear the words that Megumin usually says, namely: Explosion!
After the player chooses a target and casts a spell, he will see magic circles that will appear in the place of your aim. Warning: If you are playing during survival and using a spell, your hunger bar will be completely empty.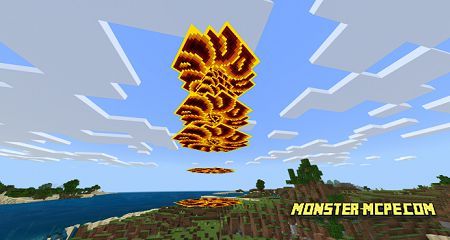 A successfully cast spell is when magic circles you have summoned from the sky fall from top to bottom on your target! As soon as the magic circles fall on your target, a large and powerful explosion will occur.
After the explosion, you can see a large crater. Be careful and choose the right distance, otherwise, you risk harming yourself, of course, you will not kill yourself, but you will completely destroy your armor.
Don't forget to activate the Experimental Game Mode!
Megumin's Explosion Skill Add-on 1.16+