Morph Addon (Beta 0.1) 1.13/1.12+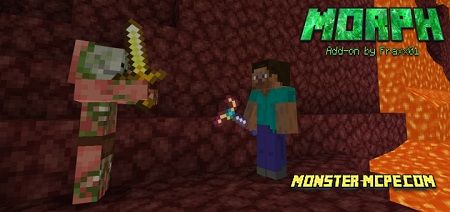 We are sure that almost all the players in the world of
Minecraft
have ever dreamed of playing not just as the usual Steve, but for example as a zombie or a skeleton. That is why we advise you to try this new and very exciting
addon
.
As you already understood, the new addition gives you the opportunity to turn into another mob. In total here you can find 5 variants of mobs, we also draw your attention to the fact that some mobs have their own animations and some of them do not work quite properly. And here is a list of those mobs in which a player can turn into:
— Drowned;
— Zombie Pigman;
— Zombie;
— Skeleton;
— Husk.
How does it work?
In order for the player to turn into the mob of which he wants, he must first create a new item - Identity Absorber! At the beginning of the game, it will not be easy for you to create it, therefore, you will need to work a little.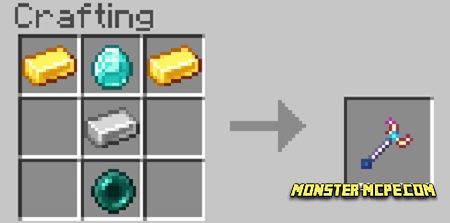 And this is how it should look like:
Select the mob you want to turn into, right-click on it while holding the Identity Absorber in your hand! In order to regain your former look, all you need is just to find the same mob you turned into earlier and use the same actions. For example, having already the appearance of a zombie, you need to find the same zombie right-click and you will return to your previous form.
An additional advantage of this addon is that turning into a certain mob you get certain abilities, but also with this you get its weaknesses. Why is this useful? Because having the appearance of one of the mobs (animals will be added later) not a single mob will attack you, except the Iron Golem.
Below you can see the features of each mob:
1. Drowned: this mob gives you the ability to breathe in water and swim quickly, but in daylight, you will quickly burn;
2. Zombie Pigman: this mob gives you immunity to lava and fire. Very useful when researching Nether;
3. Zombie: being like this mob, if you kill a villager, he will also become a zombie, it can be damaged by daylight and the Iron Golems;
4. Skeleton: Go around the Iron Golems, as they will attack you, and also avoid daylight;
5. Husk: this mob has the same features as a zombie, but in daylight, it will not burn.
Please note: Since this is a beta version, small glitches and bugs are possible, please let us know if you notice such ones.
Morph Addon (Beta 0.1) 1.13/1.12+