New Mob: Xenomorph Alien Add-on 1.13/1.12+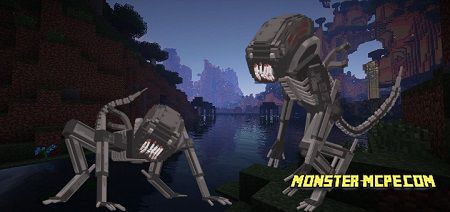 Have you ever watched a very famous movie Aliens or Predator vs Alien? If yes, then this addon will be very interesting to you, as it adds a new creature to
Minecraft
, and you guessed it, this is the
Alien Xenomorph
, which consists of a large number of parts, many of which are animated. A total of 525 parts, of which 366 are moving.
A new
addon
adds a deadly and dangerous creature, an alien called Xenomorph. This creature is somewhat similar to the Iron Golem, as on its way will kill anyone who interferes.
The alien is able to inflict a very large amount of damage, and if you do not have enough experience in battles or are not prepared as a whole, then you should not engage with him in the battle since this creature is able to kill a player with a couple of punches.
The player can meet the Xenomorph anywhere, regardless of what time of day it is, whether it is day or night. If a player defeats a given creature, he may drop loot shulker shells or bones, in some cases both items. Drop Chance 50%.
The most dangerous opponent of the Xenomorph, besides an experienced player, is the Iron Golem, he has an effective way to defeat him. Discover this method.
As you already understood, this is really a very creepy and powerful creature that can ruin your peaceful journey.
New Mob: Xenomorph Alien Add-on 1.13/1.12+