Mechanic Addon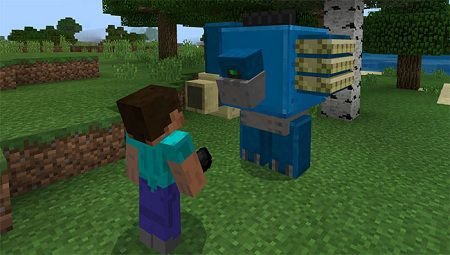 Mechanic Addon is a cool addition to Minecraft PE, which creates a new assistant in your game world in the form of a robot Mechanic. This mechanism will be neutral to your player, and will be able to attack you only if you hit him first. The robot can be tamed, giving him a little coal, after which you can ride a robot. You get the opportunity to also quickly move into the game universe, it's very useful!
How it works?
A robot mechanic can be found in those biomes where Creeper appears most often, since the new creature appears just in place of this standard mob. Players may tame a robot using coal items. When you have tamed your new friend, it can be ridable. But, it may be when the robot won't protect you. Suchsituation can arise when you leave the robot somewhere far away and do not use it.
The robot will help you store items, it has 27 slots for placing blocks and items.

The most useful feature of this mod is that you can drive a tamed mechanic. The mechanism jumps high and it is immune to fire. With this mod you will become unbeatable in Minecraft PE!