Pokémons Addon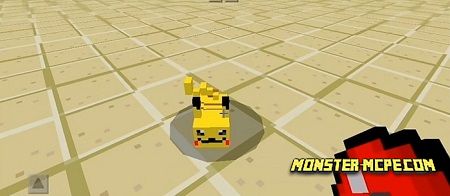 New amazing add-on for older versions of Minecraft (than 1.8.0.8). From now on you, can no longer spend a large amount of time on downloading full version of game and Pokercraft mod, just use this better, more simple option, in order to add famous pokemons to MCBE, which is called Pokemon add-on.
Here player can find twenty-two different pokemons, fifty-one poketballs, many other things.
The aim of this game is to challenge your strenght and skills in battles. Each player will battle with each other, in order to determine whose pokemon is stronger, and the strongest will survive and win!
Features of pokemons and how to be their owner?
In order to get some pokemon, you should at first tame him. For this process, player should use pokeball, with help of those it will be done, it has ability restore health of your pokemons. Some types of these creatures are rideable.
You can use all the types of available creatures for fighting with Ender dragon! In order to summon all for battle, take with you as much as possible balls. Each of them has its own unique skills and power.