Jaws and Megalodon Add-on
This
addon
adds new mobs, sharks, which is truly dangerous and blood-thirsty. These mobs replace the Elder Guardian and the Guardian, it is
Megalodon and Jaws
. From now, ocean become the most dangerous place, that is why in case if you plan to go to ride on a boat or simply to swim, be careful or take all your armor.
Where you can find them?
Often they are located around the monuments in ocean.
First shark is real king of ocean, it is Megalodon. You can find them around the ocean, their rate of spawn is five percent, one shark of this kind can deal sixteen damage. Health: two hundred. This shark is bigger than others usual sharks in three or five times! Can attack Jaws, turtle, dolphin, squid and player. Has a really rare and good loot.
Damage: twenty
Health (hearts): seventy-five
Second shark is Jaws, not less dangerous shark, their rate of spawn is from twenty-five to fifty percents. Health: fifty. This shark can deal six damage. Can attack player, turtle, dolphin and squid.
Damage: six
Health (hearths): fifty hearts.
Be attentive even while you fishing, this dangerous mobs can come in any moment.
Useful note:
In case if you see that dolphins run away from that place where they were, it means that sharks are coming, and you should hurry up and get away from water!!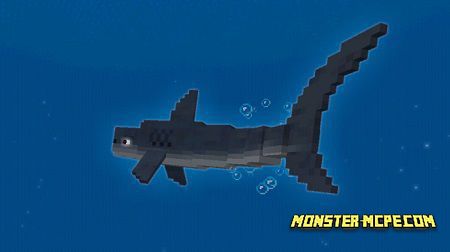 Jaws and Megalodon Add-on