The Wild Update Warden and Archeology Add-on 1.18+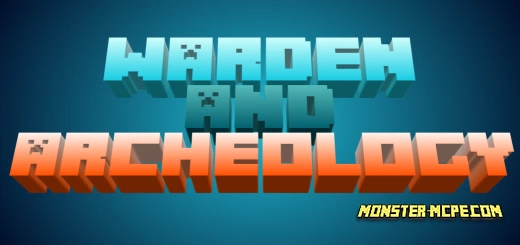 Another introduction to the Wild Update for Minecraft is
The Wild Update Warden and Archeology
Add-on
. The addition contains a lot of interesting things: mangrove wood, Warden, fireflies and even working sculk blocks. So get ready for an interesting time in the block universe. But first things first.
Warden
Spawns when the sculk-screamer is activated.
Hears and smells the player
Don't activate the sculk-screamer too often.
Don't walk further than 15 blocks away from the monster.
Health: 250
Damage: 30
Don't make too much noise or provoke the mob
Mangrove Wood
Plenty of new material items
Mud Bricks
Bricks and half blocks of mud
Mangrove Swamp
Trees and lots of clay will appear
If you use the latest betas, there will also be frogs
Fireflies
Not a bad food for frogs
Archaeology
At archaeological digs, you can find valuable items if you dig in the ground
Pottery can be put on fire to get pots
Stone structures will often appear around the world
Changes in the new version
Bug fixes
New Watchman behavior
New textures
Added Allay
The Wild Update Warden and Archeology Add-on 1.18+