More Zombies Add-on 1.16+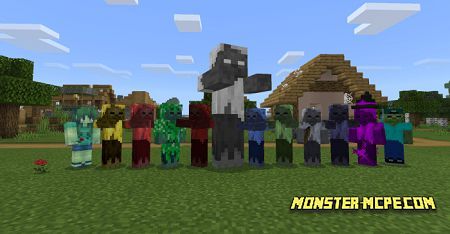 A new
addon
that adds more zombies to the game, or rather many different types of zombies. In total, 9 different types of zombies will be added to the game. New mobs will differ from the usual zombies, as each of them will have its own unique behavior and even features.
Of all 9 new types of zombies, two will be neutral and will attack you only if they have to defend themselves.
Two new neutral types of zombies are the Zombie girl and the zombie guy.
Let's look at you other types of zombies that, unlike the above, will always try to attack you:
1. Archer: this mob will attack players over long distances since it uses a bow;
2. Teleport: has the ability to teleport, and also attacks players using poison;
3. Evokator: able to tame wild wolves after which they become red and very aggressive, using blindness for attacks. This mob is able to summon many other zombies which can teleport and normal small zombies;
4. Zombie BOSS: has 300HP. Able to summon two different types of zombies, which are baby zombie with a bow and baby zombie that have a blinding attacks. The boss attacks from a long distance. Appears after one of the new zombies will be strucked by lightning;
5. Explosive: he decides how to attack you, explode near you or fight at close range. Creepers who are near him will be charged during the battle;
6. Crescent: has the ability to increase its height when approaching its enemy;
7. Colorful: changes colors during the battle, each color gives its own specific effect;
8. Invisibl: during the battle can become invisible. It becomes visible only after you kill it or when it stops fighting;
9. Fiery: Uses poison to attack, and also leaves fire traces when it sees its target.
Another bonus from this addon is that at night, a zombie horse will spawn in different places of the
Minecraft
world.
Below you see examples of how the new zombies will look in the game:
Please note that neutral zombies spawn during the day, and enemy ones only at night. How the Boss appears we have already found out with you.
Also, each player is able to spawn any of the above mobs in Creative mode!
More Zombies Add-on 1.16+