Zombie Breeding Addon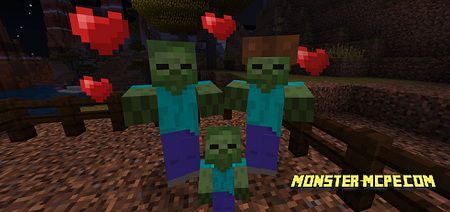 Very cool
addon
for those who tired to breed cows. From now, you can breed very interesting creature is zombie ! It is really fun process, for example if you want to breed zombies you should use rotten flesh. These creatures will have a little zombie, as a baby. Unfortunately in this addon you will not see how zombie baby will follow their mother and husk and drowned will not breed. Also, they have no ages.
Description of gaming process:
It is dangerous occupation, because while breeding these creatures they will be aggressive to you and can bite you while you will feed them.
First of all you should capture 2 zombies. You can feed them only with rotten flesh. As it was mentioned before, be attentive while feeding them. After that, you will see love dance.
In a few seconds they create a baby zombie.