Genoa Cows Add-on 1.16+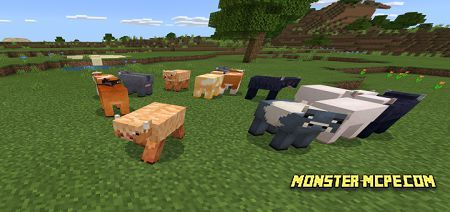 Do you like animals like cows in the Minecraft world? These are cute and quite useful creatures that live in your world. Would you like to diversify them and add more different cows? The new
Genoa Cows
addon
adds nine new types of cows to your game that you could previously see in Minecraft earth! We draw your attention to the fact that in order for more different types of cows to live in your world, it was necessary to change some features of simple cows, namely, to replace some cows with new ones, to change behavior and textures.
Since you know or not, Minecraft earth is no longer functioning and there is no way to borrow some data from there for development, it is for this reason that some changes were required to the existing cows, but nevertheless, we hope you will enjoy it.
Please note that all new cows will spawn naturally in different biomes, many of which will correspond to each other.
Below you can see all the new types of cows that will be added to the Minecraft world (you probably already know how Moolip and Moobloom look like):
1. White albino:
2. Woolly:
3. Umber:
4. Cream:
5. Sunset:
6. Pinto:
7. Cookie:
Just like a simple cow, new types of cows can also be bred by players, for this use also wheat and the corresponding type of cow. Only the same types of cows can be crossed with each other, different types of cows cannot be crossed with each other.