Gift Wrapping Add-on 1.16+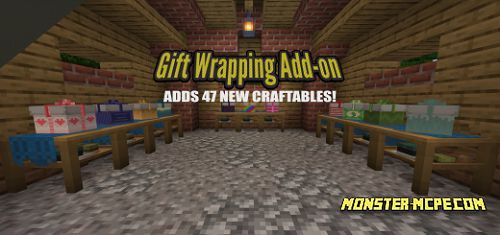 Would you like to make a real gift to your friend or your beloved person in the Minecraft world? If yes, then the new
addon
is exactly what you need. The new
addon
allows all players to create a real gift using special wrapping paper and a gift box. This is a very interesting and useful addon, players can also use this addon to create gifts for different holidays or just as decoration.
Please note that the new addon adds thirty new gift boxes and thirty different types of gift papers. In order for the player to craft a gift box or paper, it is necessary to use a special gift wrapping workstation. Let's take a look at all the features of the addon below and what will be added to the Minecraft world.
Features of the addon
As mentioned earlier, to craft all new items that this addon adds, you must use a special gift wrapping workstation. Below you can see the recipe for crafting this station:
When you have already crafted a special gift wrapping workstation, you need to craft gift paper that is used to wrap the box. This paper is presented in the game in thirty different colors and styles so that the player can create different unique gift boxes. Let's take a look at all the available types of wrapping paper and craft recipes below:
1. Black Paper: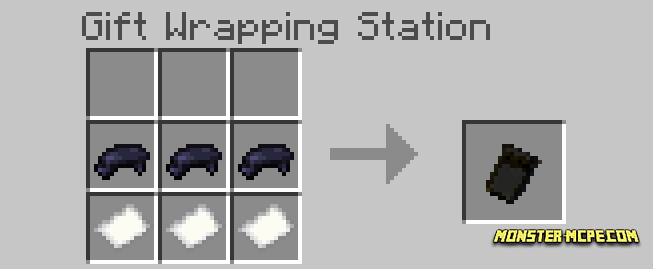 2. Blue Paper: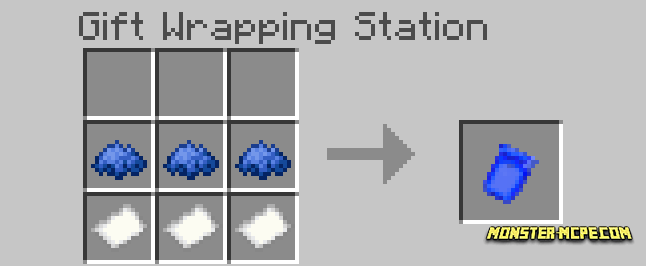 3. Brown Paper: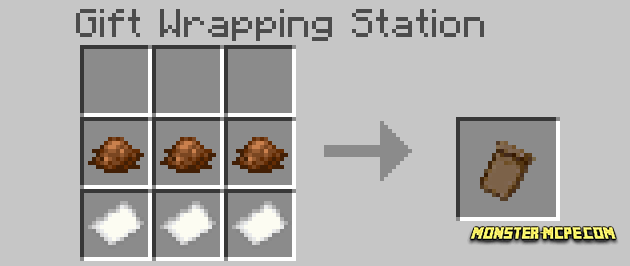 4. Cyan Paper:

5. Gray Paper: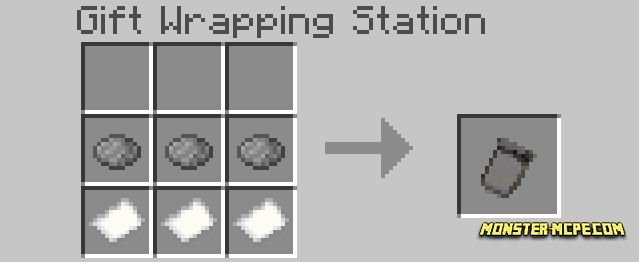 6. Green Paper: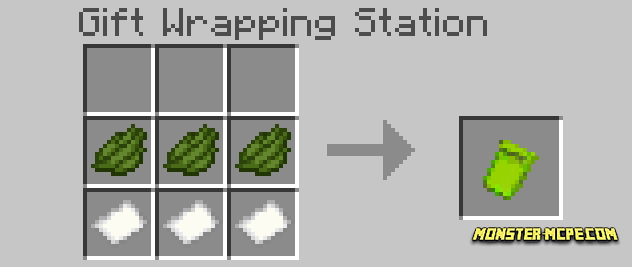 7. Light-Blue Paper: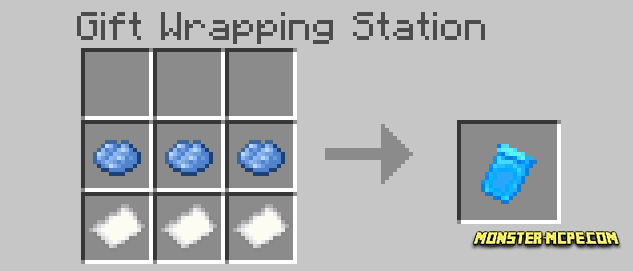 8. Light-Gray Paper: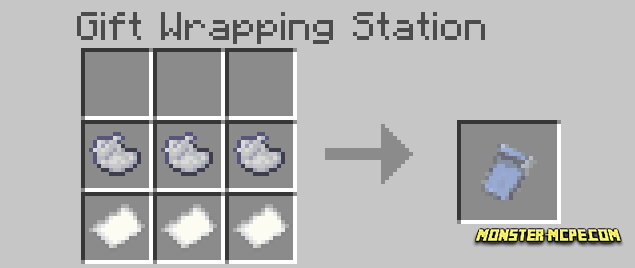 9. Lime Paper:
10. Magenta Paper: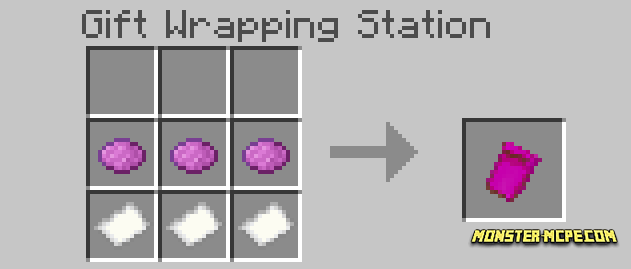 11. Orange Paper: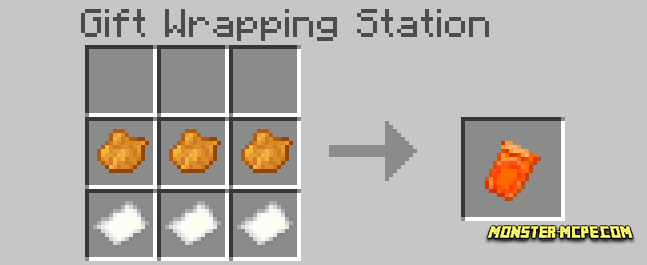 12. Pink Paper: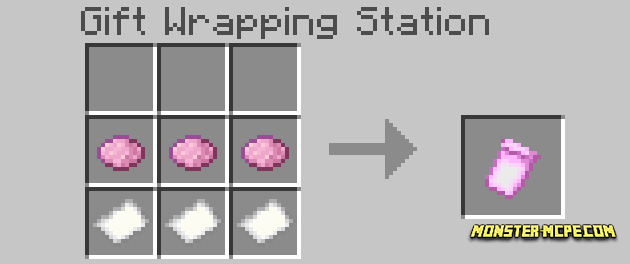 13. Purple Paper: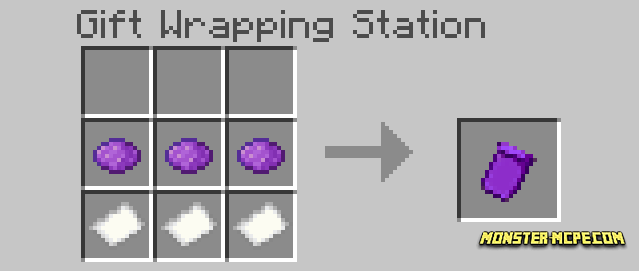 14. Red Paper: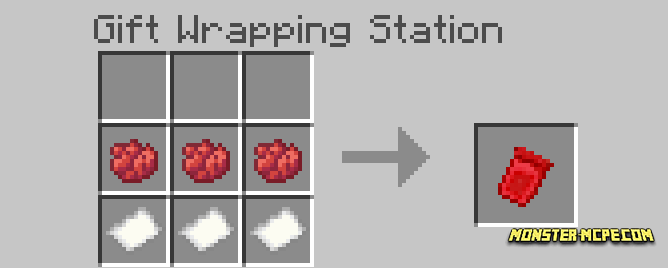 15. White Paper: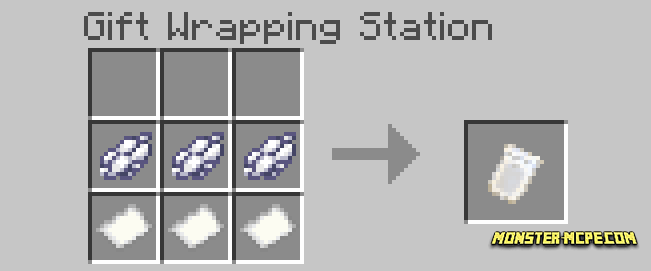 16. Yellow Paper:
The next and perhaps most important are the gift boxes in which your gifts will be hidden. Let's take a look at all types of gift boxes and craft recipes below:
1. Blue: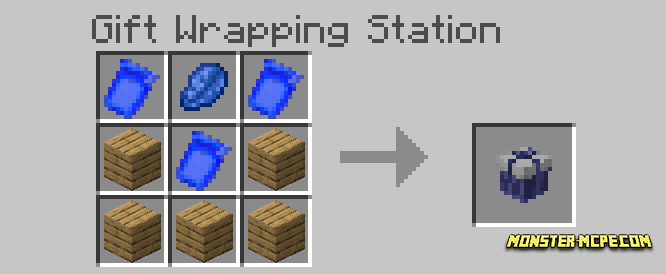 2. Caramel: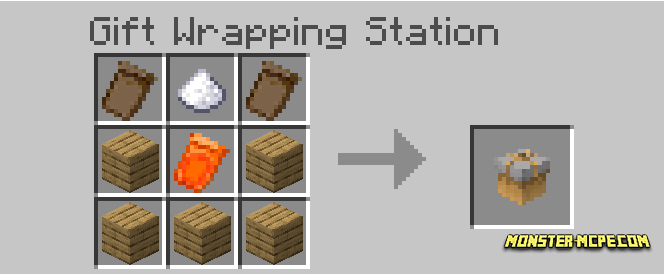 3. Checkerboard: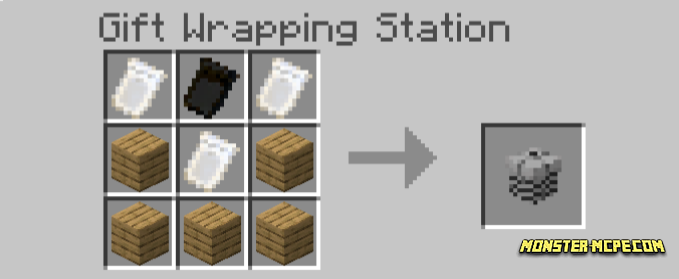 4. Chocolate: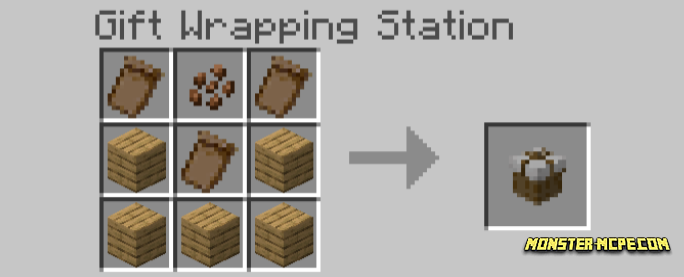 5. Clover: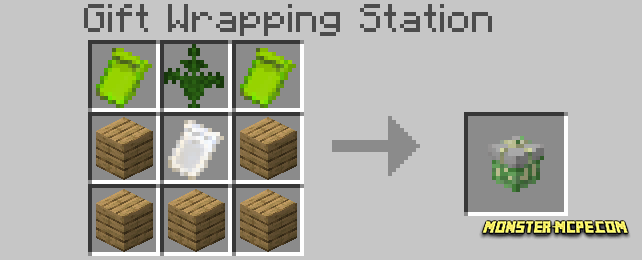 6. Creeper: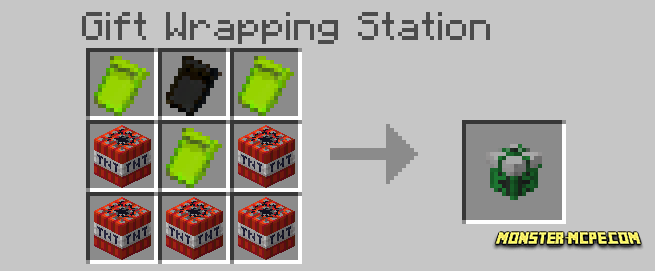 7. Crimson: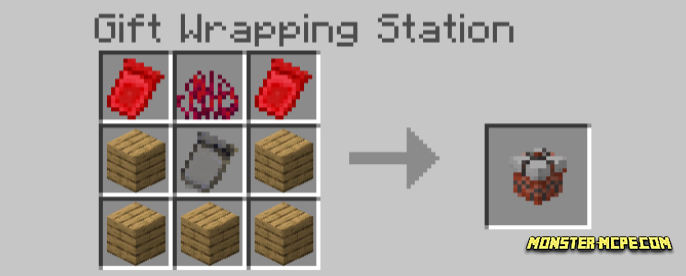 8. Cyan:
9. Dark: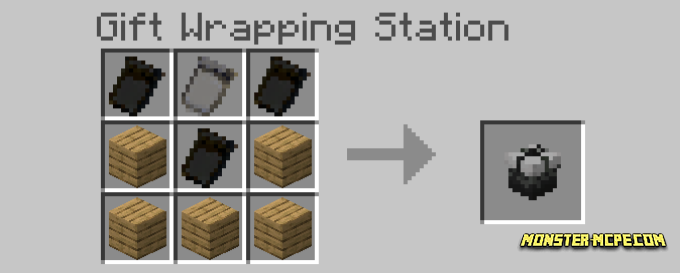 10. Emerald:
11. End: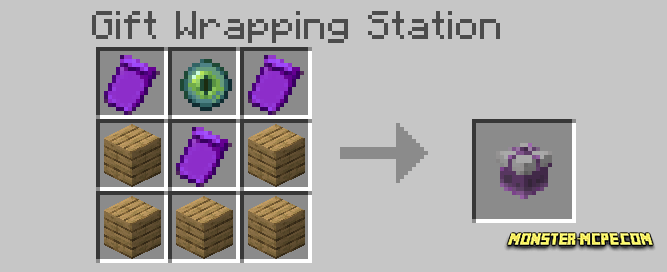 12. Frozen:
13. Grass:
14. Gray:
15. Haunted: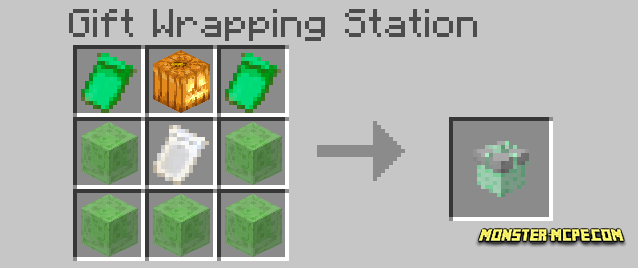 16. Lemon:
17. Lime:
18. Magenta:
19. Medkit: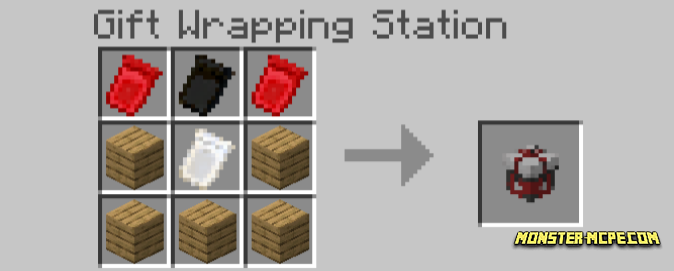 20. Ocean: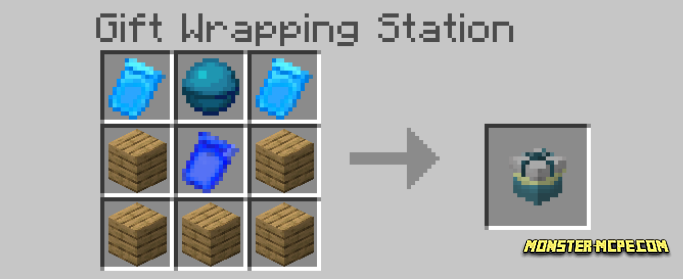 21. Orange: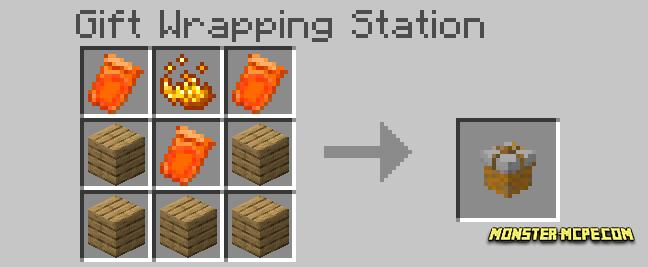 22. Peppermint:

23. Picnic: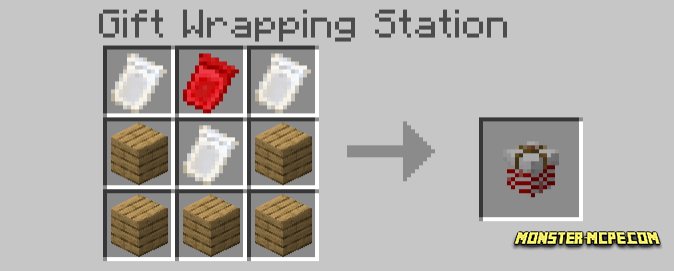 24. Pink: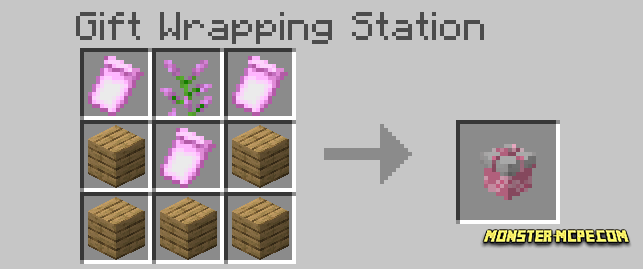 25. Purple:
26. Rainbow: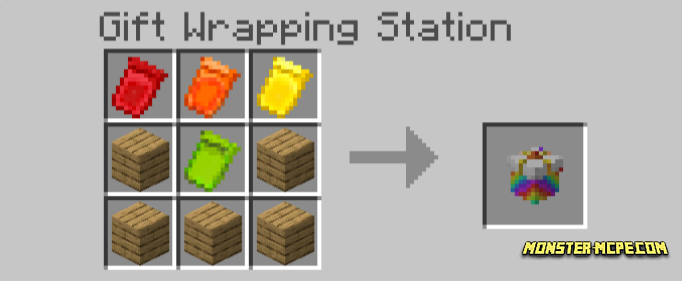 27. Science: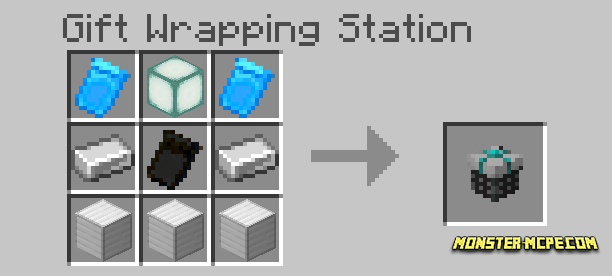 28. Spooky:
29. Sweetheart: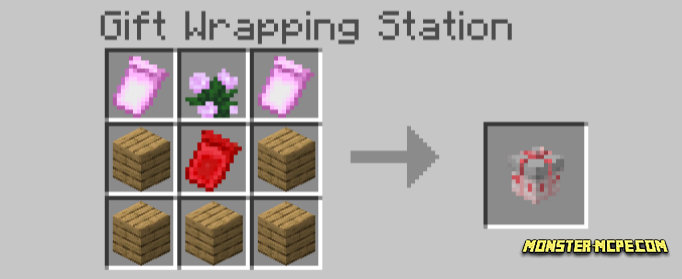 30. Yellow: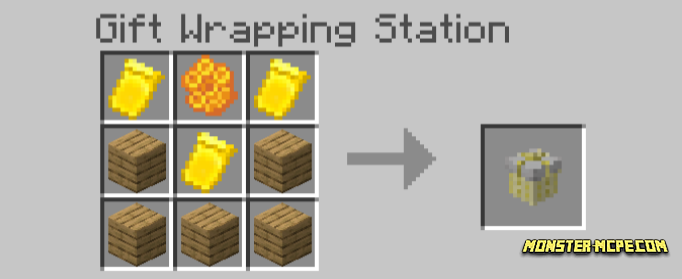 Please, do not forget to activate the experimental game mode!
Gift Wrapping Add-on 1.16+