Warthog Add-on 1.16+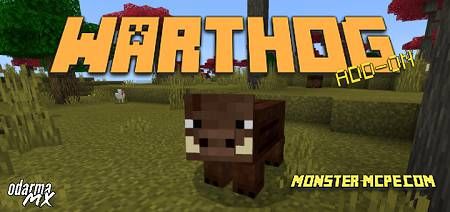 We present you a new
addon
that adds a new interesting wild animal to your Minecraft world, namely the
warthog
. This creature is very similar to a pig or a boar, but still has a difference in behavior and appearance, which cannot be said about the smell of this animal. The meat of this animal is edible just like pork. The new animal will diversify your usual days in the Minecraft world.
At first glance, this animal is very similar to a pig, but if you look closely, this is not so, since the wild warthog is much larger in size and stronger. These animals know how to protect themselves, even while still being baby warthogs. New animals will do everything to drive away strangers and protect their territory, and since you do not see where their territory is, you should be careful.
The loot of this animal is the same as that of a pig, that is, leather and pork. But as mentioned earlier, this is far from a pig and this animal has completely different behavior. Therefore, it will not be so easy to get leather or pork. In order for you to kill a warthog, you first need to try to catch him, which will be also not just because they are very fast and agile. In addition to being quick and agile, they can hit you back. By killing a warthog, you will receive more experience for killing than for killing a pig.
Warthogs live in places such as savannah and jungle.