Warden Concept Add-on 1.16/1.15+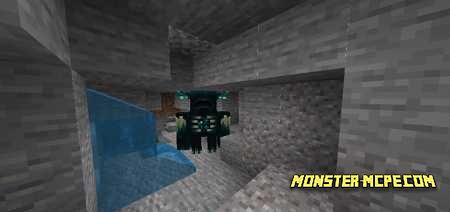 Have you watched the Minecraft live 2020 event? If so, then you already know what awaits us in the upcoming
Caves & Cliffs update
. One of the many features of this update is the mobs, one of which we will present to you today. Such a mob is a creature called the
Warden
. This creature looks a bit like a Minotaur.
This addon allows you to get a new experience and look at the creature that will be in a future update. The new
addon
adds Warden to the Minecraft world with the same features, namely functionality, and appearance, that were presented by the developers of the Mojang studio at the Minecraft live 2020 event.
Below you can see a screenshot of how it will look in the Minecraft world: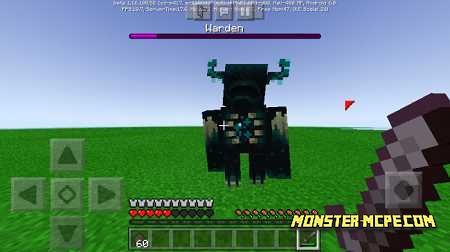 Description of the mob:
This mob has 150 health points and deals 21 damage in one hit. We recommend that you prepare for a meeting with this creature, otherwise this meeting may be your first and last. These creatures will spawn in caves underground at level 32. If you noticed one of the features of this creature, it is the ability to emit light in the dark thanks to some parts of its body:
Also, below you can see the animation of the roar of this creature (this is not an exact feature, after the release, it may not exist at all or it will be different):
Below is the screenshot you can see how the Warden walks: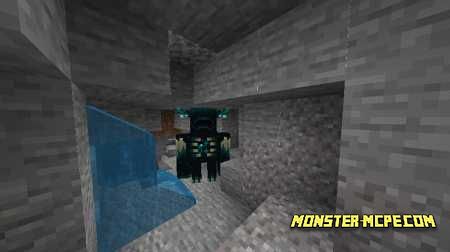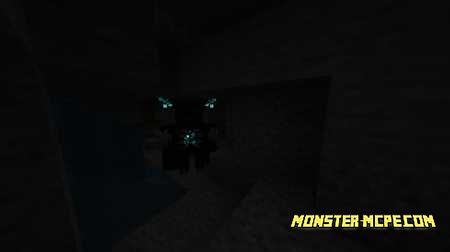 Warden Concept Add-on 1.16/1.15+