Helicopter Mod for Minecraft PE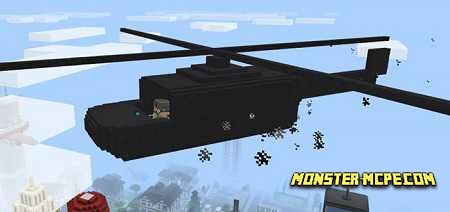 Have you ever experienced a helicopter flight in the Minecraft world? What about military helicopters? If not, then the new
addon
is what you need. The new addon adds new
helicopters
to your Minecraft world, and not simple ones, but military ones, which can shoot and kill your enemies.
This addon allows players to easily cover a long distance from one place to another, comfortably and quickly. Also, if you need to help someone, for example, the villagers, or you are attacked by hostile creatures, a military helicopter will help you with ease.
We would like to draw your attention to the fact that if you need a civilian helicopter for walking around the world of Minecraft, then you will have such an opportunity since, in addition to the military version of the helicopter, a civilian helicopter will also be added to the game.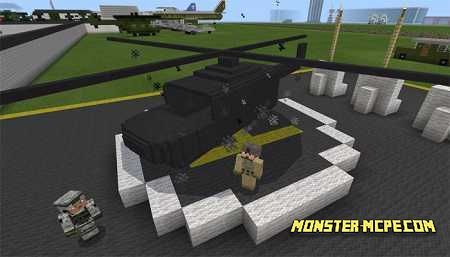 A military helicopter can destroy everything in its path, including hostile creatures and even structures. Unlike other military equipment, helicopters are very fast and can easily maneuver in the sky.
How to get such a helicopter?
Everything is very simple. To do this, the player needs to visit a dimension like Nether. In the Nether world, find such a flying creature as Blaze, but instead of this creature in the places of their spawn, you will see a helicopter, each of which you can control. We remind you that Blaze is most often spawned in structures such as the Nether fortress. Don't worry, they won't attack you.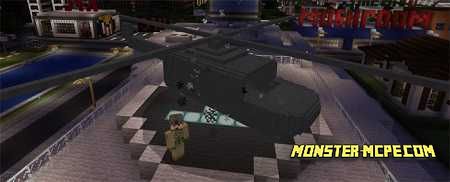 Control your helicopter and shoot your enemies. The controls are very simple, like in all flying mechanical vehicles.
Each player can store their items in this way in the helicopter storage.
Helicopter Mod for Minecraft PE
Helicopter Add-on




Helicopter v2 Add-on



PlaneCraft Add-on