Terraria Pirate Captain Boss Add-on 1.15/1.14+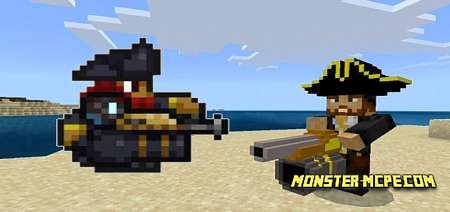 Would you like to add a new rival to your Minecraft world? If so, then this add-on is what you need! The new
add-on
adds a new powerful boss. This boss could be seen only if you played the game Terraria. The new boss's name is
Pirate Captain
! Earlier in the Terraria game, he spawned when pirates attacked you.
Ways to find a new boss?
1. Use the inventory of creativity and use the pirate map;
2. Use a special command / summon with the following text: king: pirate_captain;
3. In some cases, this boss will spawn on the shore of any beach.
We draw your attention to the fact that you would activate the Experimental game mode!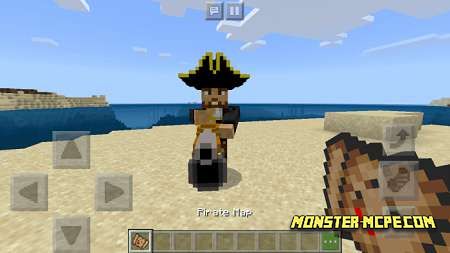 Description of the boss Pirate Captain
The new boss has 350 health points and uses long-range weapons to attack his targets, or he can hit at close range.
At close range, it can deal 5 damage and gives you a weakness effect for 3 seconds. For long-distance battles, he uses two weapons, either a Mini Shark or a Cannon. The mini-shark shoots more than 70 bullets each of which deals 2 damage. The Cannon fires 3-5 cores at a time, each of which deals 10-20 damage. Has resistance to explosions, knockback, and fire.
Pirate Captain drops emeralds from 10 to 15, diamonds from 1 to 5, and gold ingot about 25. In some cases, an iron sword can drop!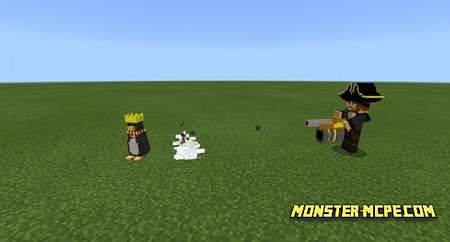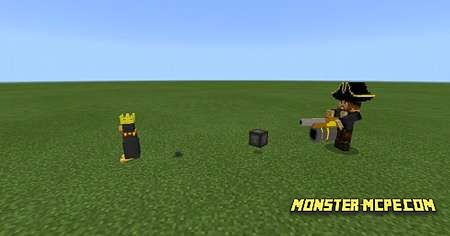 We recommend that you keep your distance when he stands still and run when he takes aim at you. Catch him with a boat and attack. Do not underestimate this boss, without good equipment you can die of the first attack.
Terraria Pirate Captain Boss Add-on 1.15/1.14+