SkyWorld Map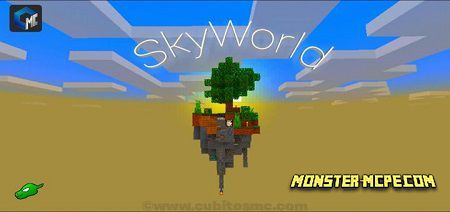 A new survival map called
SkyWorld
. This is a fascinating map for those who like to face difficulties and challenges. As you already understood, this is a map of SkyBlock.
This
map
is quite large and has a total of about 25 different islands. This is a great place to have fun with your friends. The time that you may need to complete the game is up to you. Each island was created using different biomes, which makes each individual island unique in its own way.
On this map of SkyBlock, players will have access to special achievements making which, players have the opportunity to get additional useful items for further survival. Useful items can be different items or enchanted books. Below we show you a list of all the achievements.
All achievements:
1. To kill:
— ghosts;
— pills;
2. To call:
— Iron Golem;
3. Create:
— cake;
4. To get:
— Dragon egg,
— fish;
— a bottle of honey;
— diamond;
— a stone;
— ender chest;
— star of the underworld;
— nautilus shell;
— totem;
— melting furnace!