Multifunctional Lab Map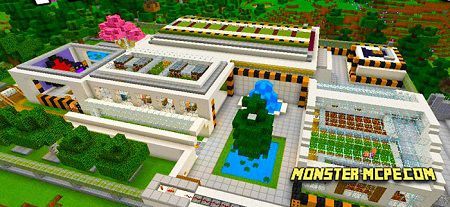 Have you ever dream about your personal secret laboratory for different experiments? Here you have such opportunity,
Multifunctional Laboratory
is consists of various modules for interesting experiments, such as capsule of time, which is able to teleporting some creature to different places. Enjoy experiments with help of this lab, explore new and exciting things such as teleporting of creatures in capsules of time.
What you can find in Laboratory:
Several portals

Experimental mechanisms

Auto-fillable warehouse

Big amount of gardens and auto-farms

Doors and gates which is opening automatically

And many others.
In Lab, you may find other persons, such as scientist, assistant etc., they are busy with discovering of new amazing things. Recommended to not disturb them from working process. This version is good for MCPE 1.5 (and stable for 1.6/1.7).