Mr. Meat Map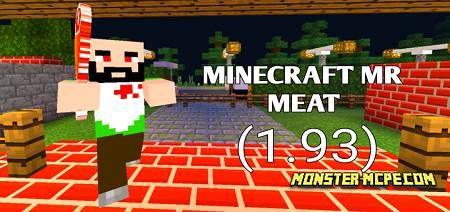 Do you like different horror games? If yes, and you really enjoy horror and cool emotions during the game, then the new
horror map
is exactly what you need. The new horror game is called
Mister Meat
. This is a new adventure game with new challenges for those who like horror games. The idea for this game was borrowed from the original game that was created for mobile devices. From now on, a new horror game is available for the Minecraft world.
Since this is a horror game, all action will take place as in many typical horror games. The main character of the game was mysteriously locked in an eerie haunted house. For the duration of the game, this house is your prison of horrors. The main goal of the game is to stay alive and find a way out to freedom. In order for you to successfully get out to freedom, you have only three nights!
Therefore, you should not just waste time, you need to carefully examine the house and look for a way out to freedom. We draw your attention to the fact that the evil and aggressive Mr. Meat walks around the house and is looking for you, so be careful. Mister Meat reacts to sounds, so try not to make noise, you can also use this to mislead him. Find all the items you need to escape and use them to get to the exit. Remember that your footsteps may not only be heard by you!
Below you can see screenshots of some places on the new horror map: