Splatoon Battle Map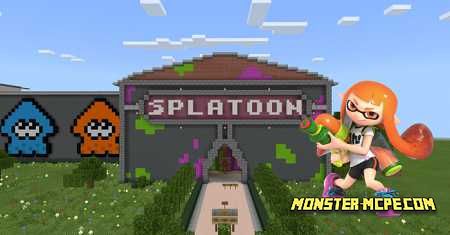 We know you definitely like different mini-games, that's why we are ready to present you with a new type of
mini-game
called
Splatoon Battle
. This is a very functional and addicting game that has everything you need to have fun with your friends. The game also added various interesting and funny sounds and music. As you already understood, this game is available for multiplayer game mode. It's still more interesting to play with friends. But, if the player still wants to play in solo mode, you also have such an opportunity. The main task of each player is to cover with a certain color, namely the color that the player has, as much of the land area as possible.
How does it work?
First, the game begins with the fact that the players are divided into teams, namely purple and green. After matching players, you will be transferred to a special waiting room where you can prepare for the competition. Please note that each team can have no more than three players each. The minimum number of players in such a game can be at least six. After all, players confirm that they are ready to play, the game will begin! To do this, click the Ready button.
After the players start the game, they will spawn on two different sides of the arena. As soon as the game starts you will hear music. Use special items given to you for the color of a certain block. These items are snowballs and eggs. A player, having thrown this item on a certain block, will change the color to the color of his team. The team that paints most of the ground with their color wins the game.
We draw your attention to the fact that you can also use the wooden swords given to you, but for killing players you will not receive any points, but by doing so you can complicate the game for other players.
All points scored by teams will be automatically calculated. At the end of the game, you will see who won. It may take some time to calculate your points, but don't worry, the system will automatically and accurately calculate the points.