Maze PvP Team Battle (PvP) map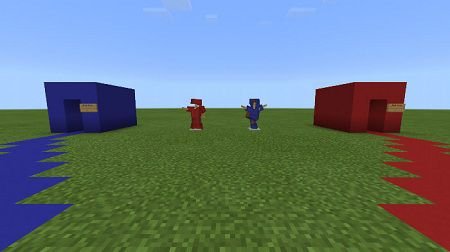 Maze PvP Team Battle is a map for battles in Minecraft Pocket Edition, where players are divided into teams and organize a battle in the maze. The point is to find the right way and get all the objects needed for battle. It's about weapons, shells, potions and other resources that will help you defeat the enemy!
Here you can play even together, but it will be more interesting with a lot of players. There are quite a lot of mechanisms from redstone and blocks with commands, all this creates a special functional for the game process.
PvP in map features
To begin with, players need to split into two teams, one will be red and the other blue.
One team is the opponent of the other team.
Once the players are divided into combat units, you can start battles.
When you choose a team, you can no longer change the decision, only if the PvP battle starts anew.
What's new?
Improved labyrinth system
Added decorations during the division into teams
On the card simultaneously can play 20 people (10 each team)
Book with the rules of the gam
Maze PvP Team Battle (PvP) map