Minecraft 1.16.0.53 for Android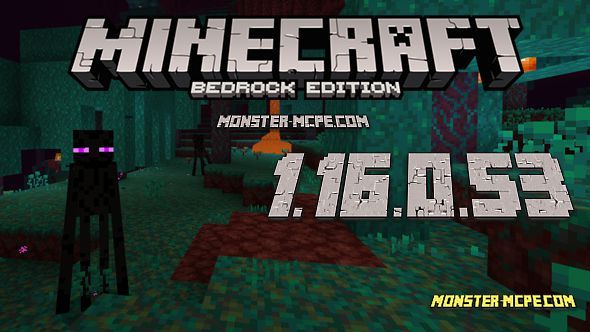 We present to you the update
Minecraft Bedrock Edition 1.16.0.53
. This is the full
version
of the game for Android devices with working and functional Xbox Live. This version was released in order to improve the technical part of the game.
Features Minecraft BE 1.16.0.53
In the new version of Minecraft, the developers of the Mojang studio have paid more attention to various crashes and bugs. Bugs that occurred during the game and interfered with comfortable gameplay were fixed.
For example, a placed map in a frame will no longer overheat your device, namely the processor.
Game changes
With the release of Minecraft Bedrock Edition 1.16.0.53, players are very rarely faced with a problem like a crash. They became much less. For example, a popular crash with a Character Editor or Split Screen.
One of the important updates is that some server files could be edited.
We also draw your attention to the fact that some worlds in Minecraft BE 1.16.0.53 did not display correctly on Gear VR devices. This problem was fixed by developers in the coming days. Players could import their worlds again.
Fixes
Fixed a bug that occurred with the model of Alex, namely his skin. Some skins did not display correctly on Alex's model.

In Realms, some chunks might not load properly. This is some cases negatively affected the gameplay.

Fixed enchantment bug. In some cases, enchantment did not work at all. (The same problem was found with Music Discs).
Other
Perhaps you could encounter such a bug as the texture of a sheep during shearing. During the shearing of the sheep, these mobs did not update the texture. This led to an imbalance in the game since the shearing of the sheep could be endless.
Placing a map in a frame. After the player placed the map in the frame, she began to blink white-purple. This was very distracting to the players and annoying. The worst thing is that this could affect so many players who might have an epilepsy attack.
Minecraft 1.16.0.53 for Android