Download Minecraft 1.13.0.18 for Android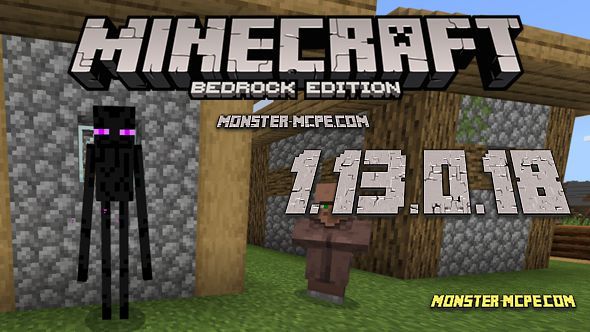 We want to please you with interesting news about the new
Minecraft 1.13.0.18
update. As you already know, version
1.13.0.17
was published just recently, but we didn't wait for the file because just a couple of days later the developers published a new update called Minecraft 1.13.0.18. By the way, it's interesting that the file was immediately uploaded to Google Play and available for download! Also, not a small number of errors were corrected here, which we will consider below.
Many people are surprised by the fact that the file to version 1.13.0.17 did not appear on Android. You can not say about the new version 1.13.0.18, which today already has a file available for everyone to download. This can be regarded as the hard work of respected Mojang.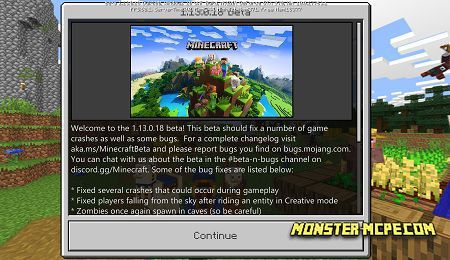 What has been fixed in the new update?
Altogether 38 different errors were fixed. In short, the developers have worked on the correction of the Character Editor, game performance and much more. Let us consider below in more detail. We have selected the most significant fixes, and here is the list:
— A number of crashes on Android has been fixed;
— Fixed crash during language switching;
— Fixed a bug in the Character Editor;
— Fixed a bug when a character tried to sit down during the Creative mode, after which the character previously flew into the sky;
— Spawn Zombies in the cave;
— Carpets are again displayed in the inventory of Lamas;
— Random shot with a Crossbow;
— Compass and Clock again move on the item bar;
— Shoes with an ice tread freeze water again;
— Fixed rotation of Steve's head;
— Display of External servers on the servers tab;
— Fixed animation of hands when swimming;
— Fixed hidden textures;
— Fixed skins on which a white cloak accidentally appeared;
— Optimized the download speed of the Character Creator.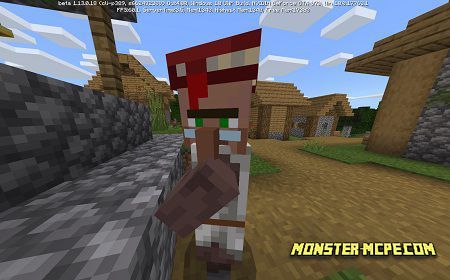 New feature
When you enter a server without Xbox Live, you will no longer see a pop-up window, since there are now working servers without authorization in Xbox Live. From now on, the player will no longer see a pop-up window. Below you can see a screenshot of how it was before:
The only thing that many players noticed, including us, was that there were no innovations that were presented to us at Minecon 2019. The first innovations will be in
1.14
.
ATTENTION !: This is a test version, so there may be crashes and crashes.
Download Minecraft 1.13.0.18 for Android